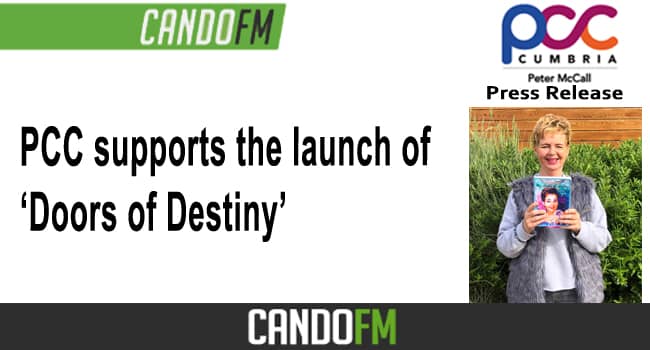 Peter McCall visited Gateway for Women Centre in Carlisle to attend the book launch of Judith Cook's 'My Doors of Destiny' to hear first-hand the positive impact Cumbria Women's centres are having throughout the county.
The Doors of Destiny highlights Judith's personal struggle with depression, menopause and details her personal road to recovery, how she left her dark thoughts of suicide behind and returned to the positive outgoing entertainer that she had always been.
Peter McCall comments:" It was great to meet Judith and hear how Gateway for Women had helped her to regain confidence, change her mindset and build a new life back to where it once used to be.
"I am sure that the book will offer support and advice to other women in similar circumstance, as Judith's story is an inspiration and raises awareness on the fact that help is out there."
"The Doors of Destiny provides a local lived experience story about the support and help that is available women in Cumbria. It explains how, even though Judith felt gripped by deep depression to the point that her mental illness had taken over her true personality, with the right support and help, people can change.
"It highlights the social side and the serious side of the Cumbria women's centres, in that they are a safe place where protection and security can be offered, as well as providing a variety of courses, clubs, groups and social settings that help people to change focus and find some new positives once again."
Talking about the launch Judith Cook comments: "I sincerely thank each and every one who attended my book launch and gave their precious time to support not only me, but a truly worthy cause.
"I am living proof that when you find the help, you truly deserve to find the person you once were, but the better version!
"My book is available to buy online at www.mydoorsofdestiny.com and £1 per book sale will be donated to the Gateway 4 Women centre."
A spokesperson from Gateway for Women comments: "We are really proud of Judith in everything that she has achieved.
"Her courage is an inspiration to others, and we hope the book will help to spread the word about support that is available in Cumbria.
"Gateway for Women offers a women-only space for all women to access support, gain confidence and improve their overall wellbeing and we are very grateful to Judith for donating some of the profits from this book to help the centre."
If you would like to find out more about the wealth of support services in Cumbria contact Victim Support on 0808 1689 111 or visit: www.cumbriatogether.com
More information on Cumbria Women's centres:
Cumbria Women's Centres by Cumbria Constabulary – issuu
North – Gateway for Women
01228 212090     admin@cumbriagateway.co.uk
South – Women Community Matters
01229 311102    reception@womenscommunitymatters.org
West – Women Out West
01946 550103    contactus@womenoutwest.co.uk