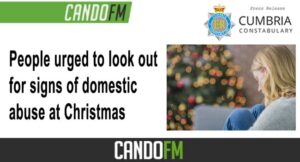 People are being reminded to look out for signs that someone may be suffering from domestic abuse this Christmas.
Cases of domestic abuse do tend to increase in December, when alcohol-fuelled nights out and the stresses of Christmas arise.
Officers want victims to know that there is support available and that they don't have to suffer in silence.
The message has been issued as Cumbria Constabulary's domestic abuse campaign continues throughout December.
Officers have been raising awareness of this issue and extra measures have been launched to stop abuse and protect people.
Support services have also been placed in the spotlight to help those suffering abuse – and to encourage those who commit abuse to seek help.
Detective Chief Inspector James Yallop is a senior officer within the public protection side of policing in Cumbria.
He said: "If you have concerns that a family member, a friend or a colleague is a victim of domestic abuse, please contact us.
"All reports are treated seriously, they will be investigated sensitively and we will work with our partners to offer support and help keep victims safe.  We will do everything we can to ensure perpetrators are brought to justice.
"A report to the police about your concerns might be the best gift you can give to a victim and their family."
Signs someone could be suffering from domestic abuse include:
Injuries
Substance abuse
Personality changes
Low self-esteem
Stopping socialising
Stress
Absence from work
Officers are also urging people who suffer sexual abuse at home to reach out for help.
Domestic abuse takes many forms – and included in this can be sexual abuse.
There are a number of support services out there for people who are suffering in this way.
DCI Yallop added: "Rape and serious sexual offences are life changing.
"Consent needs to be given knowingly, fully and freely, every time."
Cumbria's Police and Crime Commissioner, Peter McCall, said: "Christmas is meant to be a happy time for everyone but unfortunately this isn't always the case.
"Sadly, experience tells us that domestic abuse often increases at this time, often associated with use of excess alcohol.
"It's key that we can all recognise signs of domestic abuse and violence so that we can help to spot and support victims.
"I would urge anyone who is or suspects someone is in an abusive relationship to report it to the police on 101 or 999 in an emergency, or report it to Crimestoppers on 0800 555 111 if you'd like your report to remain 100 per cent anonymous.
"However, I understand that not everyone wants to report to the police which is why I commission services across the county to help anyone in an abusive relationship.
"Victim Support can provide advice, information and signpost you to other services that can help; call them on 0300 303 0157 Monday to Friday, 8am to 6pm or the 24/7 Supportline on 0808 1689 111. If you cannot speak, visit the website www.victimsupport.org.uk and use the Livechat.
"Anyone that has experienced rape or sexual assault can also contact the Bridgeway, the Sexual Assault Referral Unit, as a self-referral.
"The Bridgeway offers medical, practical and emotional support, providing forensic examinations and can provide support throughout the court process if needed.
"They can be contacted on 0808 118 6432, 24-hours-a-day.
"Please don't stay silent on abuse – help is available to everyone.
"You are never alone."
There are five categories of domestic abuse:
* Physical abuse.
* Controlling behaviour – where someone controls areas of the victim's life. This can include controlling who the victim meets or speaks to, what they access on social media, what they wear and monitoring a person's movements.
* Coercive behaviour – where the victim is forced to do things against their will, or they are constantly shouted at, ridiculed, deliberately frightened, threatened or made to feel like they have to walk on eggshells.
*  Financial abuse – where the perpetrator controls the victim's finances or restricts what money they can access for themselves or others. This is also a form of controlling behaviour.
* Psychological abuse – where a perpetrator destroys the confidence, outlook or mindset of the victim.
If you have been the victim of domestic abuse, or are concerned for someone who is, you can report this online at www.cumbria.police.uk/reportit – or by calling 101.
Always dial 999 in an emergency.
You can access support services regardless of whether you have reported a crime to the police.
To access support services independently, contact Victim Support 24/7 on 0808 1689 111 – or visit the Cumbria Together website www.cumbriatogether.com.