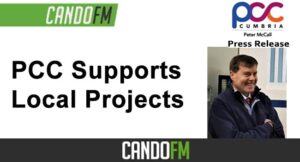 Cumbria's Police and Crime Commissioner, Peter McCall recently awarded £34,928 from the Property Fund to local charities and groups across Cumbria, including organisation such as Business Against Crime South Lakes Partnership, Waberthwaite CE Primary school, Cumbria Deaf Association and Carlisle Sea Cadet Corps for example.
The Powers of Criminal Courts Act (POCA) gives Police and Crime Commissioner's the power to distribute money which is created from proceeds of the sale of items that cannot be returned to identified owners, which includes seizures from criminals. This means that money seized from convicted criminals under POCA is re-invested back into local communities.
Peter McCall comments: "Taking money from often the ill-gotten gains of criminals and re-investing it into the community can only be a good thing.
"Groups are invited to apply for up to £2,500 from the Property Fund to help fund projects and interventions that reduce crime and tackle the key priorities within the Police and Crime Plan.
"I am particularly focused on projects which give our young people positive values, help develop confidence and provide a sense of responsibility to their local communities.
"Examples of recent Property Fund projects include Silloth Youth Rugby, where funding has enabled the club to purchase age-appropriate training kit and first aid bags, Morton Manor Community Centre to support their boxing club and Kendal Youth Zone to help them offer activities at the local climbing wall. These types of resources provide additional opportunities and equipment for diversionary activities where they are needed most and give young people easier access to active and healthy clubs in their free time.
"Other successful projects include Country Watch Eden's application for rural gate alarms and covert asset trackers to be installed in local farms, which have become the target of rural thefts and burglary, and also Cumbria Deaf Association in South Lakes, to provide a British Sign Language translator at various question and answer drop-in sessions with local police officers.
"I am always very encouraged by the number of innovative ideas for different activities and groups, and just how much time volunteers are willing to give to help create a sense of community belonging in the towns and villages where we live.
"The next round of applications for the Property Fund is open and I urge members of the public to contact the OPCC if they would like to provide positive opportunities within their community. All information of how to apply can be found on my website."
T/Chief Superintendent Matt Kennerley, Cumbria Constabulary, said: "It is pleasing to see that money generated and seized from those who commit crime is redistributed into very worthwhile initiatives within our communities.
"The efforts by community groups not only assist the Constabulary's efforts to keep people safe, they also make a significant contribution to improving the quality of life for people across our county."
Please note that the next deadline date for Property Fund applicants is 29th April 2022 and for more guidance on how to apply, use the following link
https://cumbria-pcc.gov.uk/what-we-do/funding/property-fund/
Further details on the Police and Crime Plan can be found at
The last round of applications, the following groups were awarded:
Eden Country Watch                                                                £1,900
Cumbria Deaf Association                                                       £554
Cumbria Neighbourhood Watch Association                      £1,981
Waberthwaite CE Primary                                                      £2,000
Maryport Solway Sea Cadet Unit                                           £2, 400
Keswick Judo Club                                                                    £2,500
Silloth Rugby Union Football Club                                         £1,700
Penrith Pumas WRC CIC                                                          £2,500
Aspatria Hornets Rugby League FC                                       £1,305
Cartmel Priory C of E School                                                   £2,400
Kendal Youth Zone                                                                   £1,500
Maryport ARLFC Youth Rugby                                               £2,500
Great Clifton Community Youth Group                               £355
T.S. Cumberland – Carlisle Sea Cadet Corps                         £2,427
Business against Crime South Lakes Partnership               £2,500
Morton Manor Community Centre                                       £1,406
Shap Parish Council                                                                  £2,500
SanKaikuni Judo                                                                        £2,500