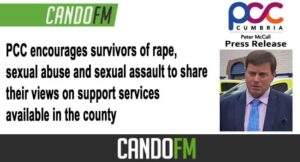 Police and Crime Commissioner, Peter McCall is asking survivors of rape, sexual abuse and sexual assault in Cumbria to take a few moments to complete a new survey, asking about the services they used and how we can encourage more people to access help.
The survey is produced in partnership with Safety Net, which supports people affected by rape, sexual abuse and sexual assault in Cumbria, together with Cumbria University.
Cumbria's Police and Crime Commissioner, Peter McCall comments: "This important research asks survivors of rape, sexual assault and abuse, to share their journey and provide feedback on the support services they have received in Cumbria.
"All the responses are treated as confidential, and victims to asked to rate the experience they had with the courts, victim support, any counselling services they may have received, the police and also about health, housing and children services in the county.
"It is essential to hear first-hand from people that have accessed support, about what worked for them and also about any barriers that may have put them off accessing support.
"Capturing such lived experiences help to build an accurate picture of how our support services can develop in the future, so please take a few moments and complete this survey. It's only by improving that we can give more people the confidence to come forward."
Jo Birch, Head of Operations at Safety Net said: "It's crucially important that survivors feed into the development of services which support them. Only people with lived experiences of sexual assault, sexual abuse and rape can understand how to make services better. Additionally, providing such feedback can be empowering in its own right; helping an individual to feel something positive is resulting from their healing journey.
With this in mind we're delighted to be working in partnership with Cumbria's Police and Crime Commissioner and Cumbria University on this survey. The survey is open until 12th February and can be accessed here:
https://cumbria.onlinesurveys.ac.uk/sexual-assault-abuse-survivor-journey-research"