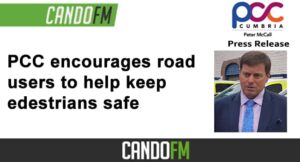 Cumbria's Police and Crime Commissioner (PCC), Peter McCall, is asking pedestrians and road users to look out for each other on the county's roads.
Early 2022, changes were made to the Highway Code changing the prioritisation of road users. Pedestrians were given priority for crossing at junctions, meaning when drivers or cyclists want to turn in to a junction, if there is a pedestrian waiting to cross, the road user must give way to the pedestrian. However, it's the duty of the pedestrian not to cause obstructions or cause risk of any unnecessary behaviour.
Speaking on pedestrian safety, Peter McCall, said: "As summer approaches, our county's roads are going to be busier with tourists and residents enjoying their holidays.
"With the recent changes to the Highway Code providing pedestrians with right of way at junctions and zebra crossings, it's really important that we all look out for one another by focusing on the roads and sticking to speed limits.
"Many of us have seen Cumbria's towns and tourist spots so crowded that people have to walk on the road due to lack of space on the pavements, no pavements, or even just to cross the road.
"It's essential that everyone remains vigilant when near a road and look out for any motorists, cyclists and pedestrians that may have missed the changes made to the Highway Code earlier this year – especially as the days are longer and our roads are busier.
"Everyone should be able to go out, enjoy themselves and get home safe so, if you are out and about in Cumbria, please follow the Highway Code and drive to the conditions of the road.
"Together we can make Cumbria an even safer place to live, work and visit this summer."
Inspector Graham Hawley, Cumbria Constabulary's Mobile Support Group, said: "Pedestrians are one of the most vulnerable road users, we are all responsible for our actions on the road and ensuring the safety of others by not putting ourselves and others at risk.
"Cumbria is a predominately rural county and we want all road users to enjoy our road networks safely.
"There are simple measures we can all take to ensure that all road users are safe, be patient, slow down, give space and always expect the unexpected.
"Those vulnerable must also consider their own safety and making sure they are wearing the right equipment."
Find the highway code at www.gov.uk/guidance/the-highway-code for more information on how to keep yourself and others safe on the road.