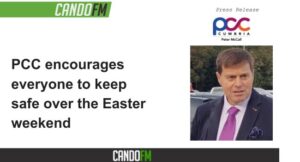 As the four-day weekend approaches, Police and Crime Commissioner (PCC) Peter McCall urges everyone to follow some basic security steps to ensure their valuables are safe before heading out and about during the Easter break.
Peter McCall comments: "The Easter holidays are a chance to visit friends, family, arrange day trips away or holidays abroad.
"With this comes the potential for an increase in the number of burglaries and break-ins, so it is important that we consider the security of our valuables and homes when we plan to be away.
"Criminals are opportunists and will assume that whilst we are away spending quality time with our loved ones, that our homes and valuables are fair game.
"It may sound obvious, but by taking some simple steps in preparing our home security, we can help reduce the risk of our possessions being stolen, such as moving anything of value out of sight, locking all windows, sheds and outbuildings, and moving any tools or objects that can be used to gain entry.
"Similarly, if you are heading out to one of the many beauty spots in the county, remember to keep your vehicle safe by removing any valuables from your car or placing them in the glove box or boot.
"If you are heading off on holiday, think before you post about being away on social media and if possible, let your neighbours know where you're going and how long you will be gone for, so they can keep an eye on your property.
"By thinking about these simple reminders and following some basic tips and advice in advance, we can all plan to stay as safe as possible over Easter."
Superintendent Matt Pearman, Cumbria Constabulary, said: "We would always encourage people to take simple preventative steps to prevent crimes such as burglary or theft.
"Simple steps such as locking doors, not leaving out-of-sight windows open and not leaving valuable possessions in view of potential thieves can be effective in preventing incidents.
"We would also encourage you to be vigilant and report suspicious activity you witness. By reporting information, this not only helps inform us of potential criminal behaviour but it can lead to robust action being taken and offenders being brought to justice.
"If you would like more information on how you can keep your property or possessions safe, please visit our website www.cumbria.police.uk"
Report online at www.cumbria.police.uk/report-it, phone on 101 or
alternatively you can contact Crimestoppers, anonymously, on 0800 555 111.