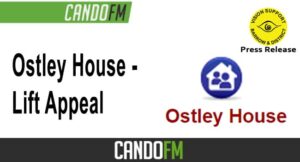 The Residential Care Home Ostley House has been offering care to many local people in Barrow for over 50 years and has continued to improve what it offers, from building new extensions to recently providing the Bradbury Village for Residents with sight loss and dementia.
The improvements are continuing there with the ongoing New Lift Appeal that has nearly reached its aim.  This project is currently estimated to cost £338,758 and the whole charity has raised £295,130 towards that cost.
The new external lift shaft has come about following detailed study of the home with the aspiration of providing better access to the upper two floors within one of its wings.  The lift will enable Residents to travel in a stretcher up and down the building, should they need to go to hospital.  It will also increase the speed of a fire evacuation should that occur.
Carl Hodge, the charity's Chief Executive, said, "The lift will make the care we currently offer our Residents even better than before and I'm very grateful for those that have contributed towards the lift appeal already".  He further added, "We are nearly at our target with just over £40,000 to go – anyone can donate through www.justgiving.com/campaign/ostleylift or dropping off a cheque at Ostley House made payable to Vision Support Barrow & District."
The charity hopes to start construction in the new year.