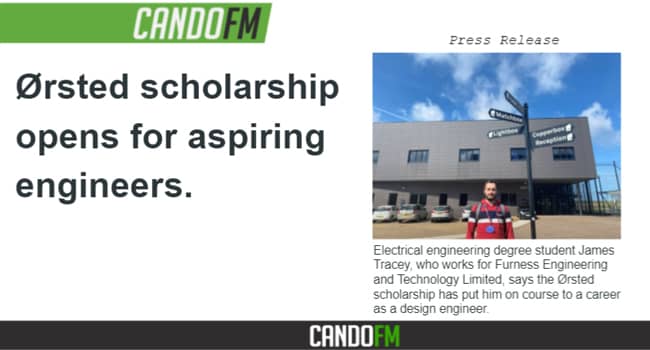 A highly sought-after scholarship that has helped several aspiring engineers get into higher education has opened for new applicants.
The Ørsted scholarship is now in its fifth year at Furness College with a share of £40,000 available to fund students through engineering courses at the Channelside campus.
Ørsted, the global leader in offshore wind, has set aside the money through its Walney Extension Community Fund to help people across South Cumbria get the education they need to progress in their dream careers in engineering.
James Tracey successfully applied for the Ørsted scholarship after completing his HNC in electrical engineering at the Channelside campus.
He is now studying the second year of his BEng (Hons) Electrical Engineering while working for local engineering company Furness Engineering and Technology Limited. They support him through day release to attend the course while he works towards his dream job as a design engineer.
"My background is an electrical engineering apprenticeship as a CE&I draughtsman but the Ørsted scholarship has allowed me to pursue my education without relying on my employer to fund it but with their full support," he said.
"The tutors are really good and take a real interest in the student's progress, and there is a mixture of academic and practical subjects, which I enjoy. I would like to become a design engineer, so getting a degree will absolutely get me closer to that goal.
"To anyone thinking of apply, I would say go for it. The degree can be challenging, but you get more support at Furness College than you would at a university, so I would say it is well worth it."
Zoe Guest, Head of Area for Technical and Build Engineering at Furness College, said the scholarship is a fantastic opportunity for anyone who has thought about an engineering career but may have thought a career change was financially out of reach.
"This scholarship is not only a huge boost for the successful students but will support the growing demand for highly skilled workers from local companies in this sector," she said. "Learners can study full time and work towards improving their future prospectus but it is a win-win for businesses as well as the employee can take their skills learnt in college back to the workplace and start to make an impact straight away."
The college will deliver the courses from September 2021 on its £47m Channelside campus and students will study in the cutting-edge Advanced Manufacturing and Technology Centre.
The successful students will join more than 500 students on higher education courses at the college, which has secured an 'excellent' rating in the government's Teaching Excellence Framework report for ensuring students go into highly skilled employment after their studies and for the academic support it offers.
Imran Nawaz, Stakeholder Advisor & Community Benefit Fund Manager for Ørsted, said: "There are so many exciting and fulfilling career paths that can be unlocked though engineering courses. It's important that we encourage new talent wherever possible, so we are delighted that we are able to help support students of all ages and backgrounds through our partnership with Furness College."
The courses available with support range from a national diploma to HNC right through to an Honours degree in mechanical or electrical engineering. The Engineering Bridging Course is now also eligible for funding.
Applications to the scholarship close on June 30th. People who are not in full-time employment or who wish to retrain in engineering may be eligible to apply. For a full list of criteria or to find out more, email businesssupport@furness.ac.uk.
Find out more about studying university-level qualifications when Furness College holds its annual Higher Education Open Evening on Wednesday 23rd June 4.30pm to 6.30pm at the Channelside campus