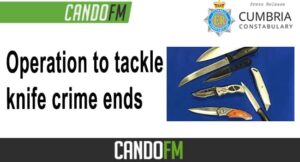 An operation targeting knife crime has come to an end, between 8th and 21st November Cumbria Constabulary conducted a number of activities included encouraging the public to surrender potentially dangerous knives.
The operation is just some of the work that the constabulary do to tackle knife crime in Cumbria
Alongside the surrender test purchases were carried out across Cumbria, volunteers from the force's cadets tested shop staff on whether they know the law on the sale of knives.
Out of 22 tests, three stores failed. Follow-ups will be carried out to support the businesses around education and training with the store management and staff.
Any blade or any sharply pointed instrument that can cause injury should not be sold to anyone under 18.
During the operation, 153 knives or blades were handed over and are now safely locked away by police before being destroyed.
During the test purchases:
Nine stores were visited in north Cumbria. Three knives sold.
Thirteen stores were visited in west Cumbria.
Chief Inspector Ben Swinson said "Over 150 knives or blades have been handed in during the surrender period
"Any knife surrendered is a success.  Knife crime can have a devastating impact on communities and there's now fewer that could have been used to hurt or take someone's life.
"The test purchases have also been positive with the majority of store staff tested did not sell knives to youths.
"The minority that did sell items to under 18 we will look to follow up with education with support from our partners.
"We would urge all shop owners and anybody in charge of staff to make sure their staff know the law around selling knives and sharp implements.
Cumbria's Police and Crime Commissioner, Peter McCall, said: "The surrender of 153 sharp weapons is a huge success as it means there are 153 weapons off our streets that could cause serious harm or, worst case scenario, fatalities.
"Knife crime is a serious issue and no one wants to see someone they love get involved in such a dangerous crime, either as a victim or a perpetrator and simply carrying a knife means you are more likely to use it.
"I want to thank the members of the public that handed in these weapons – it really is a community effort to create a safer Cumbria."
If you are worried about someone you know carrying a knife, help and guidance is available:
The website provides information about helping young people go knife free.
Fearless.org is a service that allows you to pass on information about crime 100% anonymously.
Crimestoppers is an independent charity that enables you to report crime anonymously.
If you are aware someone is carrying a knife or offensive weapon, report it to us.
Call 999 straight away if there is an ongoing incident involving a knife or offensive weapon.