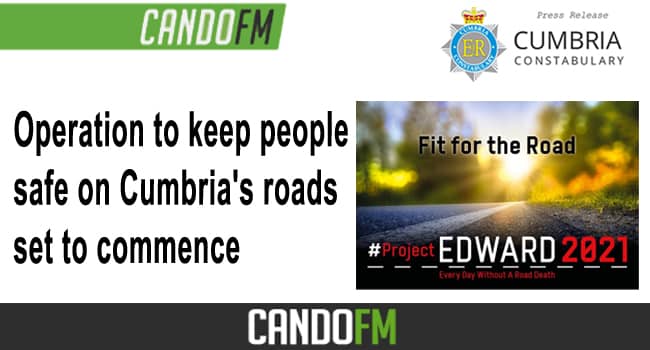 Officers are educating drivers on protecting vulnerable road users in Cumbria as part of a National Police Chief Council (NPCC) campaign.
Officers will be carrying out operational activity between Monday 13th and Friday 19th September, alongside a social media campaign which started on Monday 6th September.
Vulnerable road users are those on our roads that have less protection if they were to be involved in a collision and therefore at higher risk of being injured or killed than if they were in a motor vehicle.
Officers will be targeting areas such as school parking and roads popular with motorcyclists and cyclists across the week, looking to educate and enforce those putting others at risk.
PC Gregory Howard, Cumbria Constabulary's Collision Investigation Unit, said: "We all have a responsibility to take care of pedestrians, cyclists, motorcyclists or horse riders who are more at risk of being injured.
"There are simple measures we can all take to ensure that all road users are safe, be patient, slow down, give space and always expect the unexpected.
"Those vulnerable must also consider their own safety and making sure they are wearing the right equipment."
Officers will also be supporting Project EDWARD (Every Day Without A Road Death) which runs the same week and aims to save lives globally. This year's theme being 'Fit for the road'.
PC Howard continued: "All road users have a responsibility to keep themselves and others safe.
"They are named the fatal four for a reason and it upon us all to help reduce the tragic consequences that can happen."
Cumbria's Police and Crime Commissioner, Peter McCall, said: "Every driver has a responsibility to drive safely and to the conditions of the road.
"Dangerous driving is a serious and selfish act as the driver not only places their own lives at risk but the lives of innocent passengers, pedestrians and other road users.
"Cumbria is a rural county and many of our roads have bends and twists that we cannot see past.
"It is essential that we drive cautiously as we never know what is up ahead.
"I would urge all drivers to respect the roads, drive carefully and get home safe."
For more information on Project EDWARD visit their website here – https://projectedward.org/