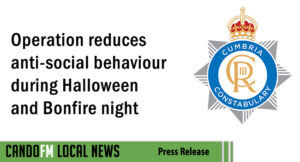 An operation introduced by Workington Neighbourhood Policing Team to target anti-social behaviour over the Halloween and Bonfire Night period, has seen a reduction of incidents by 42%.
The operation aimed to bring a proactive partnership approach to dealing with the increased incidents of anti-social behaviour usually seen over this time of the year.
The operation ran from 23 October to the 6 November with local Community Beat Officers and Police Community Support Officers (PCSOs) patrolling areas of Workington, Maryport, Silloth, Aspatria, Cockermouth and Keswick taking positive action against those involved in anti-social behaviour.
The Neighbourhood Policing Team worked with partners from Cumberland Council Trading Standards Team to carry out test purchases of fireworks sold in shops, and also supported Council Enforcement Teams in clearing dangerous bonfires.
Officers also visited multiple schools in the area to educate young people on how to keep themselves safe whilst out trick or treating, risks around bonfires and fireworks and to ensure they are considerate about their behaviour, the consequences and how it can impact others.
This action resulted in a 42% reduction of incidents of anti-social behaviour with 31 incidents reported compared to 54 incidents compared to the same period last year.
Social media was also utilised to share key messages.
Workington Neighbourhood Policing Team Inspector, Pete Aiston said "We introduced Operation Firecracker to focus on preventing and reducing incidents of anti-social behaviour over the Halloween and Bonfire night period.
"Historically, we always seen an increase in these types of incidents, particularly over the half term week.
"We worked closely with our partners in Cumberland Council to take proactive steps to help educate and inform the public, but especially young people, about the dangers of fireworks and consequences of being involved in ASB.
"We also ensured local Officers and PCSO's were on duty, at the right times and in the right place to provide a visible presence in our communities.
"The operation was a success and we have seen a significant reduction in anti-social behaviour over this period."