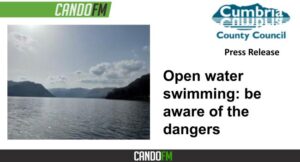 Cumbria Fire and Rescue Service has also been reminding people about the dangers of spending time near water as people look to cool down during periods of hot weather.
Group Manager Angela Opie, Cumbria Fire and Rescue Service's Prevention Lead, said:
'We want people to enjoy spending time in and around water safely. In Cumbria, we carried out more than 200 water rescues between 2015 and 2020, which sadly included 8 fatalities. And in 2021 alone, there were 3 water-related fatalities in Cumbria.
'This is because they were unaware of the risks and unprepared for the scenario of ending up in the water. By highlighting this issue and making sure simple safety messages reach our communities, we hope to reduce the number of these preventable deaths.'
Stay safe this Summer by following Cumbria FRS's water safety advice:
If you are spending time near water, make sure you know what to do if you happened to fall in. Remember Float to Live. The advice is not to panic, float on your back and then either call for help or swim to safety.
If you've consumed alcohol, do not enter the water, and avoid walking on routes near water.
Never enter the water to try and help a person or animal – always call 999 and use any water rescue equipment if it is available.
If you are spending time near water whether at home or abroad, make sure you are familiar with local safety information and that children are always fully and actively supervised.
The RNLI also provide some useful safety tips for spending time in and around open water.