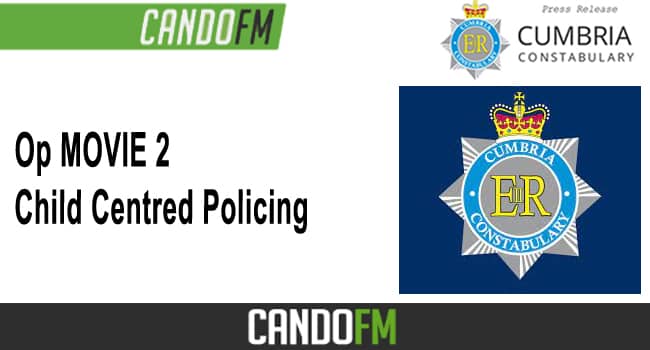 This week, Cumbria's Child Centred Policing team are launching Op Divan, a Police-led initiative to challenge and discourage the carrying of knives by young people in Cumbria.
This is a proactive operation. Incident of young people carrying knives in Cumbria remain low and Cumbria remains one of the safest places to live in the country.
The initiative is the latest child focused advancement the team have implemented to further support young people in our community.
Op Divan has been launched to help prevent the criminalisation of young people, keep them safe and promote culture change around attitudes to carrying a knife.
The operation's messaging is designed to educate and support those under the age of 18, to raise awareness of the consequences of carrying a knife and reduce the number of young people carrying a weapon.
Child Centred Policing team lead, Inspector Gemma Hannah said:
"Whilst youth knife crime remains low in Cumbria, we are a forward thinking force and this is a really positive, proactive approach to keeping incidents low.
"Op Divan provides an opportunity for our team to deliver an intervention to young people who are identified as carrying a knife, but where the evidence doesn't amount to a crime.
"Growing up today, comes with a lot of pressures for young people. There might be a number of mis-guided reasons why a young person feels carrying a knife is the right option for them. Op Divan gives us the opportunity to listen to those reasons, positively challenge them and offer positive alternatives and support.
"We don't want to see any young person unnecessarily criminalised because they didn't know the consequences of carrying a knife or they were unaware of the support available to them. Hopefully this initiative will help young people to make better, more positive decisions going forward."
Police and Crime Commissioner Peter McCall said:
"Young people go through such dramatic changes during childhood and early adulthood, often negotiating challenges and barriers that can, if wrong decisions are taken, shape their behaviour and lead to criminal acts.
"Operation Divan offers the opportunity for Cumbria Constabulary's Child Centred Policing team to provide vital support to young people and their families and carers as early as possible.
About Cumbria's Child Centred Policing Team:
The CCPT were implemented by Inspector Gemma Hannah and Detective Chief Inspector James Yallop in 2020, following extensive research into childhood offending, conducted with the support of partner constabularies.
A child centred approach to policing aims to improve the quality of policing for children by acknowledging their differences, recognising their vulnerabilities, and meeting their needs. By doing this we can prevent the unnecessary criminalisation of children, signposting them to relevant support services and providing opportunities for positive interventions.
CCPT officers have been trained in specialist areas including, Adverse Childhood Experiences and Trauma Informed Care.
The teams, who are stationed across the whole of Cumbria, work closely with a network of agencies, educational establishments, charities and partners who provide support services for children.
Since the implementation of the Constabulary's Child Centred Policing teams, they have made a great deal of progress:
Worked with in excess of 1200 young people across Cumbria
Implemented the It's Your Choice early intervention staged approach to tackle youth anti-social behaviour.
Gained the status of Trauma Informed Organisation
All of Cumbria frontline officers have completed Adverse Childhood Experiences training, looking at the negative effects of adverse childhood trauma
Enhanced standardised policing procedures for when the victim or suspect is a child
Worked with a large number of partner agencies, educational establishments and charities to provide consistent support to vulnerable young people
Provide regular visits and communication with educational establishments across Cumbria.
Provide support to and work with care settings and partners to improve the outcomes and to prevent the unnecessary criminalisation of children in care.
During the next two weeks of Op MOVIE2, information about the work of the Child Centred Policing teams will be shared on social media, along with helpful information about accessing youth based support services.
You can follow the Constabulary's campaign content by searching the #OpMOVIE2
If you have concerns about a young person carrying a knife you can report it via:
Police
Online: www.cumbria.police.uk/reportit
Call: 101 non-emergency | 999 emergency
CrimeStopper (Independent charity)
Call: 0800 555 111  | calls are completely anonymous. Always.
Fearless (Independent charity)
Online: https://www.fearless.org/en/give-info | reports can be made completely anonymously.
If you are a young person and you feel you need support please contact:
ChildLine
Online: https://www.childline.org.uk/
Phone: 0800 1111
Police
Online: www.cumbria.police.uk/reportit
Call: 101 non-emergency | 999 emergency