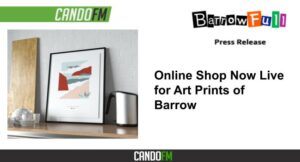 Residents, visitors and Barrovian ex-pats can buy their own piece of Barrow to adorn the
walls of their home or office from a newly-launched online shop from BarrowFull, one of the
town's successful and award-winning arts organisations.
The prints have been created by artist Kim Hubball, who has created a contemporary
illustration for each of the town's wards, bringing the town to life through colour.
Kim visited the town in 2021 as part of the Colours of Barrow project. She came to Barrow to
interpret the area, which boasts a protected coastline, four designated Sites of Special
Scientific Interest, sand dunes and beaches and an array of wildlife of national and
international significance, through colour.
Talking to local people about the streets and spaces in which they live, and what colours
they saw in their everyday lives, she created colour palettes for the 13 wards, plus 1 overall
Barrow colour palette. The palettes themselves have been used to create a piece of art for
each ward, and will be used as reference points for future artworks representing the place.
Home Images and The Gallery in Barrow-in-Furness have kindly offered customers a ten
percent discount for those quoting 'Colours of Barrow' when they bring one of these prints to
be framed.
Artist Kim Hubball, a Manchester-based artist who was involved in the 'Bee in the City' art
trail as well as designing and hand-painting other large scale 3D sculptures for public art
trails around the UK and whose work has been exhibited in London's Saachi Gallery, led this
project, in partnership with Barrow's arts organisations and local people.
The shop is live at www.coloursofbarrow.co.uk/ and any questions about the art can be
directed to the artist direct hello@kimhubball.co.uk