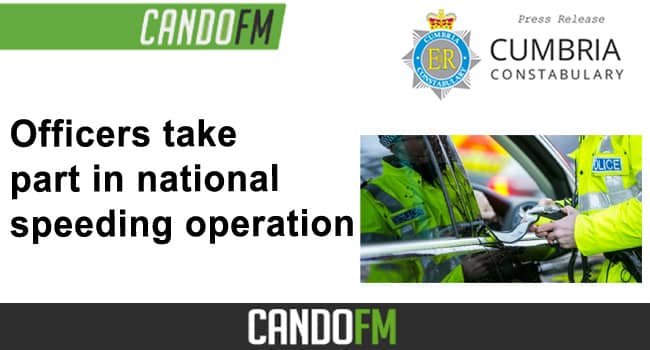 Officers in Cumbria are taking part in a two weeklong national NPCC operation to tackle speeding in the county beginning on the 26th July.
Messages have already been issued over the last week on social media to educate drivers around speeding.
Speed is one of the fatal four factors that can contribute to serious injury or fatal road traffic collisions, the faster someone drives the less time they have to stop if something unexpected happens.
Across the week officers will be educating and enforcing drivers who are caught speeding.
In 2020, 24,187 speeding offences were recorded by road safety cameras and officers in Cumbria.
Sergeant Craig Hynes said "As police officers alongside other emergency services we see the tragic impact that speeding can have on families and wider communities.
"Speed limits are not a target.
"Drivers need to be aware of the conditions of the road and adjust their speed accordingly.
"Our aim is to keep all road users safe and to reduce the number of fatal or serious injury collisions in our county.
"Those driving dangerously should expect us to investigate and bring them before the courts.
Cumbria's Police and Crime Commissioner, Peter McCall, said: "Cumbria is a mainly rural county with many rural roads and speeding, and other acts of dangerous driving, can be fatal.
"The speed limits on our roads are in place for everyone's safety and I would urge drivers to follow or remain below the enforced speed limits.
"This national operation is a great opportunity to raise awareness around what the Police do year-round to protect road users but it isn't only the responsibility of the Police to reduce speeding.
"It is a personal responsibility to drive appropriately and keep yourself, other road users and pedestrians safe.
"Please do not speed on Cumbria's roads.
"Please report any dangerous driving to 101 or 999 in an emergency, or report anonymously to Crimestoppers on 0800 555 111."