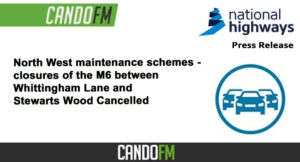 The planned full weekend closures of the M6 between Whittingham Lane and Stewarts Wood (between junctions 32 and 33) will no longer be taking place.
Having taken on board recent feedback in response to the disruption caused by the last weekend closure we are no longer planning any full weekend motorway closures for the remainder on the project.
As you may be aware, this essential work is taking place to remove and replace the existing road surface and waterproofing system on two bridges which carry the M6.
Some previously scheduled works will continue with overnight lane closures on the Southbound carriageway this Friday (23 September) and a single overnight full closure on the Northbound carriageway (J32-33) on Monday (26 September) between 9pm-5am.
The new schedule of works will be carried out using lane closures for four weeks starting on Sunday October 2, which will ensure the motorway remains open during the daytime providing a safe environment for both workers and road users. This will result in the following:.
Overnight closure of the M6 Southbound on Saturday October 1 (9pm – 5am) to enable the installation of traffic management systems.
From Sunday October 2, for four weeks, the M6 Southbound (J33-32) will have permanent daytime lane closures (with speed restrictions) with two narrow lanes remaining open during the day.
During the same period, overnight restrictions (typically 9pm – 5am) will be in place throughout, which will result in the closure of the M6 Southbound carriageway(J33-32). A fully signed diversion route will be in place using the A6 from M6 J33 before re-joining the motorway network at M55 (J1).
Additional lane closures on the Northbound carriageway (typically 9pm-5am) will also be in place for the duration of these works.
The works will require four weeks for completion. However, these may need to be extended if affected by inclement weather.
We will keep customers updated here and on our social media channels, National Highways North West on Facebook and @HighwaysNWest on Twitter
Update – 13/09/2022
M6 – Update on last weekend's closure – Whittingham Lane and Stewarts Wood Bridges.
Last weekend, planned maintenance work on M6 Whittingham Lane and Stewarts Wood Bridges took place between junction 32 and 33; we are aware this work caused severe delays for many customers.
We are sincerely sorry for the delays experienced by drivers on the M6 this weekend and will be reviewing the traffic management, signage and communications ahead of future weekend closures. As soon as practicable and to help ease congestion and support road users, we reopened two out of three lanes on the southbound carriageway at 5.10pm Sunday, with the work restarting at 12am and continuing until 5am, Monday 12 September. As the nation pays its respects to Queen Elizabeth, planned full closures on the M6 are being paused this weekend (16 – 19 September). This will also allow us more time to review plans for future weekend closures and make any necessary changes to minimise disruption.
We continue to advise road users to check their routes before setting off using live traffic information on http://ow.ly/lrfZ50KHMT7, to allow extra time for their journeys and to familiarise themselves with diversion routes if necessary.
Notice of essential maintenance 
We are carrying out maintenance work renewing the waterproofing and surface on two bridges that carry the M6 over Whittingham Lane and Stubbins Lane, north of junction 32. This essential work protects the bridge joints from salt and rainwater damage, reducing the need for emergency repairs in the future.
At the same time, we will also replace the central barrier on both bridges and repair beams under the bridge decks which have been damaged by vehicle strikes. Carrying out this essential safety work at the same time as the waterproofing will mean fewer road closures for customers
We plan to start advance work on the northbound carriageway on Wednesday 7 September and Thursday 8 September. This work will involve two overnight closures of the M6 J32-J33 from 9pm until 5am. These closures will be repeated on Monday 26 September and Tuesday 27 September.
We'll then close the M6 over four weekends (Friday at 9pm until Monday at 5am.)
Friday 9 September – Monday 12 September – southbound
Friday 16 September- Monday 19 September – southbound – PAUSED – ROAD NOW OPEN
Friday 23 September- Monday 26 September – southbound – PAUSED – details to follow
Friday 30 September- Monday 03 October – southbound –PAUSED – details to follow 
During M6 closures, a fully signed diversion will be in place which has been agreed in advance with the local authority and police.  Southbound traffic will leave the motorway at junction 33, onto the A6 (Preston Lancaster Road) for 12 miles, then onto junction 1 of the M55, re-joining then M6 at junction 32. Northbound traffic will leave the M6 at junction 32, onto junction 1 of the M55, then onto the A6 (Preston Lancaster Road) for 12 miles before re-joining the M6 at junction 33.
To complete the bridge strike repair, we will also close two local roads under each bridge, Whittingham Lane (B5269) and Stubbins Lane during the weekend of Friday 30 September – Monday 03 October.
Fully signed diversion routes will be in place which have been agreed with the police and local council; we recommend that all customers use the signed diversion routes to avoid several weight and height restrictions on local roads nearby. Using a signed diversion route also minimises noise and traffic disruption for residents living close by.
More information
We are mindful that this work will cause delay and disruption and during our planning we have also taken into consideration work on the M56, junctions 5 to 9.
We aim to minimise the impact on customers as much as we can, but we need to advise there will be delays. Where possible, customers should avoid the area by choosing another route if one is available and plan for longer journey times.
Customers living on the diversion route will experience increased traffic numbers and noise during these closures. We apologise in advance and thank you for your patience while this essential work is completed.