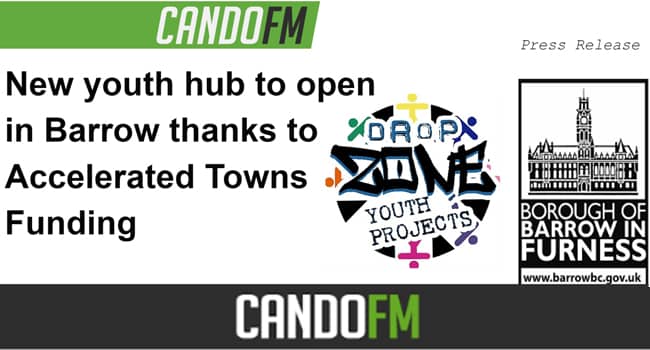 A PIONEERING organisation for young people across Barrow is to open a new youth hub in the town.
Drop Zone will relocate to a new base in Abbey Road to increase its capacity and to make sure a range of services for children and young people are available under one roof.
The property – formerly known as Lakeland House – has been purchased by Barrow Borough Council using grant funding from the Government's Towns Fund Accelerator scheme.
The move comes after the need for a youth hub in the town centre was identified as a priority by Drop Zone and the newly formed Furness Youth Work Partnership – a group of charities, bodies and representatives linked to services for children and young people in the area.
Cath Corkill, from Drop Zone, said: "We've known for some time that a location in the town centre would be best for young people, particularly if it was near to public transport.
"We are very excited that this has now become a reality so the hub can host services from a range of organisations seven days a week.
"Our thanks go to Barrow Borough Council for listening and making this happen for our young people.
"Working in partnership with a number of excellent organisations across the borough will ensure we are able to make a difference to the chances of everyone who comes through our doors."
The £80 million Towns Fund Accelerator was launched by the Government last year for projects that will help towns to kick start regeneration and immediately boost prospects for their communities.
Barrow Borough Council was awarded £750,000 in funding. A portion of this sum was used in the purchase of the Abbey Road property as a town centre community hub for young people to meet the identified need.
Drop Zone, which is currently based at The Annexe, in Bath Street, supports young people aged seven years and over in the borough every year through a range of projects, drop-ins and groups that meet regularly.
Councillor Beverly Morgan, Barrow Borough Council's spokesperson for children, young people and families, said: "This is a fantastic achievement for everyone involved.
"The team at Drop Zone do an excellent job in making sure our young people are able to access the provision, space and support they need to learn, develop new skills, be empowered and to reach their potential.
"Bringing youth organisations together as the Furness Youth Work Partnership has strengthened the voice of young people in our area which has helped to bring about projects like this.
"I look forward to seeing the new hub in Abbey Road up and running as soon as possible."