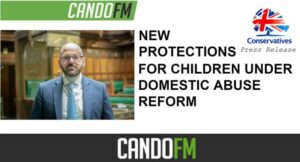 Press Release from the Office of Simon Fell MP
Date: 27 January 2022
• New provisions were signed into law today which provide legal recognition that children can be victims of domestic abuse.
• The provisions come as part of the Government's Domestic Abuse Act, which introduces a range of measures to protect victims of abuse and crackdown on perpetrators – including by widening the definition of domestic abuse, providing victims of abuse with secure accommodation, and expanding 'revenge porn' laws.
• These measures will help to crack down on the scourge of domestic abuse – giving victims the support they need while ensuring the dangerous offenders who perpetrate these crimes are brought to justice.
New provisions have been signed into law today which provide legal recognition that children can be victims of domestic abuse.
The new laws mean that children who see, hear or experience the effects of abuse within their family, and who are related to either the abuser or victim of abuse, will themselves be classed as a victim under law.
The move comes following the granting of Royal Assent to the Government's Domestic Abuse Act.
Commenting, Simon Fell, the Member of Parliament for Barrow and Furness, said:
"Domestic abuse is completely unacceptable and we must do everything we can to crack down on this abhorrent crime.
"I welcome the steps taken by Minister Maclean yesterday, which will ensure that children who experience or are subject to abuse will themselves now be classed as victims
"I know from speaking to families in Furness that these steps will better protect children from harm and I welcome that the Government has made tackling domestic abuse one of its priorities, protecting victims and bringing offenders to justice."
The Domestic Abuse Act introduces a wide range of new offences that better protect victims, including by creating a new offence of non-fatal strangulation, extending the definition of controlling or coercive behaviour to cover post-separation abuse, and creating a statutory definition for domestic abuse.
Additionally, local authorities will now be required to better support victims through duty to provide accommodation-based support to victims of domestic abuse and their children.
The Act also ensures that offenders will be brought to justice by allowing suspects to be subject to polygraph testing and expanding the law surrounding 'revenge porn' to include sharing intimate images.
Minister for Safeguarding, Rachel Maclean, said:
"I believe it is vital that all young people can reach their potential and they should not be defined by these awful crimes that are totally outside their control.
I am working with my colleagues across government to ensure that children are protected at home, at school, and in their daily lives.
We must continue to act to stamp out domestic abuse wherever it occurs."