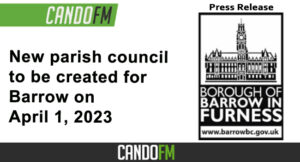 A NEW parish council is to be created for Barrow on April 1, 2023, after the move received formal backing from the Shadow authority for Westmorland and Furness Council.
A review of community governance arrangements in Barrow was launched earlier this year in response to the creation of two new councils in Cumbria; Westmorland and Furness Council and Cumberland Council. The two new councils will replace all six district councils across the county as well as Cumbria County Council from 1 April, 2023.
Members of the Shadow Westmorland and Furness Council voted to support the creation of the new parish council for the unparished areas of the borough at their latest meeting. They also agreed to a contribution of £100,000 towards the cost of the first election in May 2023.
A Re-Organisation Order has now been made to enable the new parish to come into existence. The year of election will be 2023 and every four years after. A copy of the order – a legal document – is available to view at Barrow Town Hall during opening hours and via Barrow Borough Council's website here: Barrow BC – Community Governance Review
Councillor Derek Brook, Barrow Borough Council's Lead Member for Community, said: "This is an historic moment for the unparished communities in Barrow.
"Town and parish councils can take on a range of powers and responsibilities and provide a voice on many local issues.
"It was wonderful to see support for the proposals arrive during the consultation process from residents, from Barrow Borough Council members as well as the Shadow Authority for Westmorland and Furness Council."
The new parish of Barrow will be made up of the eleven existing Barrow Borough Council wards covering the unparished area of the borough: Walney North, Walney South, Barrow Island, Hindpool, Central, Ormsgill, Parkside, Risedale, Hawcoat, Newbarns and Roosecote.
The number of parish councillors elected for each ward will be: Walney North 2; Walney South 2; Barrow Island 1; Hindpool 2; Central 2; Ormsgill 2; Parkside 2; Risedale  2; Hawcoat 2; Newbarns  2; Roosecote  2.
The new Barrow Parish Council will be housed in Barrow Town Hall from April 2023 under a licence agreement with Westmorland and Furness Council, with detailed terms to be agreed by officers in the coming months.
Areas of the borough already represented by a town or parish council are unaffected by the change.
Councillor Brook added: "The process of consulting on and creating a new parish or town council is complex and my thanks go to everyone involved, and in particular those who provided vital feedback as part of the Community Governance Review.
"The future looks very exciting for the communities in question and I look forward to seeing the formation of the new parish council next year."