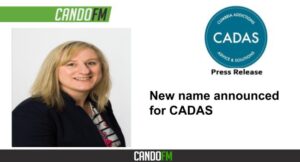 Exciting news to share – we have a new name!
From today (October 10, 2022) we will no longer be known as Cumbria Alcohol and Drug Advisory Service, but instead, we are now Cumbria Addictions: Advice and Solutions (CADAS).
It's a small change which we believe will make a big difference – helping more people connect to what we do, as we develop our services to include a wider range of addictions.
As we also proudly share our 2021-22 Impact Report today (which you can read here), you will see that we are still as passionate about reducing harmful addictions across Cumbria today as we were when we started over 40 years ago.
We pledge to continue supporting people with drug and alcohol dependencies, but we recognise the growing need for more support in the county across a broader addiction spectrum – from gambling and compulsive spending, to social media and gaming.
To explain more about our name change and what you can expect from CADAS in the future, our Chief Executive, Leigh Williams (pictured below), has answered a few FAQs…
Why has the charity changed its name?  
The name change has been a long time coming. For a number of years, CADAS has worked with people with multiple addictions. People have come to us with a drug or alcohol addiction but would often have another type of addiction as well – compulsive spending or gambling for example – and we would support them with it. In 2013, our governing documents changed to reflect this.
Since then, we have seen an increase in people affected by a wider range of addictive behaviours in Cumbria, so we felt it was sensible to broaden our remit and formalise what we have already been doing in practice. The training course we run internally for staff and volunteers is called Understanding and Working with Addictive Behaviours, so it made real sense to be able to develop our understanding of other addictions and train our team to work across this wider platform.
Whilst our new name will reflect our work across multiple addictions, there will be a period of training and consolidation for our team and during this time, if we are not skilled in a particular addiction, we will be using our service to signpost people to another specialist provider. We will also be championing issues such as gambling harms locally and working with others to increase their understanding or capacity to provide support themselves.
As a supporter or service user of CADAS, do I need to do anything?  
As a supporter or funder of CADAS, you don't need to do anything differently, apart from check and please alert us of any need to re-contract under our new name for any partnership work. We can also send you our updated branding documents, so you can share our logo on any reports which show you have supported or funded us this year.
As a service user, nothing will change for you. Our systems, staffing and capacity will be the same – infact it should be better as you will be able to see how we are going to offer more support across the wider addictions agenda. If you want to contact us on our helpline (0800 2 54 56 58) and you are struggling with an addiction which isn't drug or alcohol related, we will be able to either help you ourselves or signpost you to another service so you can get the specific support you need.
Is CADAS moving away from drug and alcohol support?  
No, we are definitely not moving away from drug and alcohol support. We are still the same charity, simply expanding our ability to support people who have an addictive behaviour that they cannot currently find help for.
So, we will certainly be supporting people with drug and alcohol problems who may have an additional addictive behaviour, but for example, we will also be able to support people who have a gambling harms addiction and no drug and alcohol concern, once we have completed further training.
What other addictions will CADAS be offering support for?  
We already get requests for support across a wide spectrum of problematic addictive behaviours, but initially we support people who have a drug or alcohol issue and another addiction, so it's likely we will be prioritising our professional development towards a better understanding of gambling harms and compulsive spending disorder. We have also been approached by professional organisations (including the police and local schools) and potential clients to see if we can help with gaming and social media addictions.
Why are you doing it now?  
We have actively been discussing this since 2018 and now we have tackled some of the issues the pandemic threw at us, we feel this is the perfect time. Now, more people than ever are being harmed by other addictions, as well as drugs and alcohol. The impact of the pandemic, the start of the Ukraine war and the current cost of living crisis has only escalated the issue.
Many people struggling with their drug and alcohol use are using it to a point where they become dependent, or it becomes problematic – so more support is definitely needed.
We would also like to continue raising awareness of the link between addictive or dependent behaviour and mental health.
We thank you all for your continued, valuable support.
You can find more information on the services we offer here