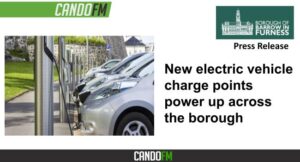 Residents and visitors to Barrow will start to see the blue lights flashing on a series of newly installed Electric Vehicle Charge Points across the borough.
This demonstrates the points are now live and ready for use.
To date there are charge points live in eight locations within the councils' boundaries – with more to follow in the coming months.
Supporting the transition from diesel and petrol to electric vehicles was part of the Low Carbon Barrow programme – a series of projects launched by Barrow Borough Council in 2020 to engage local communities on climate issues, reduce CO2 emissions and help the borough to achieve its aim of becoming carbon neutral by 2037.
Councillor Ann Thomson, the leader of Barrow Borough Council, said: "This is a significant milestone, not just for the Low Carbon Barrow project but for the whole of our borough, and something to be celebrated.
"More and more people are making the move to electric vehicles and we need to do all we can to ensure the right infrastructure is in place to support this.
"We need to make it as easy as possible for those who drive electric vehicles already to charge conveniently, whether they live here or are visiting, as well as for those who are thinking about making the switch in the future."
Low Carbon Barrow is funded by the European Regional Development Agency and Cumbria LEP.
The electric vehicle charge Points can be found in the following locations:
Lime Street Car Park, Dalton
Park Leisure Centre
The Dock Museum
The cemetery
West Shore Car Park
Emlyn Street Car Park
Whittaker Street Car Park
Market Street Car Park
In addition, EV charge points in Hall Street Car Park and Nelson Street car Park, Dalton, are due to go live in August and November respectively.
Cllr Thomson added: "A lot of hard work has gone into this project and my thanks go to everyone involved in helping us to create a network of public charging points across the borough.
"It is imperative that each and every one of us does all we can to reduce our carbon footprint. Every individual action, no matter how small, counts and contributes to a big difference overall in the fight against climate emergency."