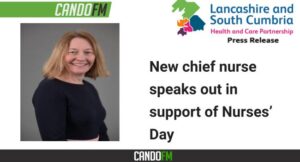 Nursing is 'a brilliant career and a chance to make a real difference
to people's lives', according to Lancashire and South Cumbria's
new chief nurse.
Sarah O'Brien, who has recently been appointed as designate chief
nurse for the new NHS Lancashire and South Cumbria Integrated Care Board
(ICB), is promoting the role of nurses as part of International
Nurses' Day (12 MAY).
Sarah, who has worked in the NHS for more than 25 years, said she has
always been a big advocate for raising the profile of nursing across the
NHS and is passionate about attracting more people into the profession.
She said: "International Nurses' Day is a great opportunity to
celebrate all that nurses do and to raise awareness of the difference
they make in so many people's lives.
"No two days are ever the same and many nurses go above and beyond in
their day-to-day roles.
"I've always believed nursing is a brilliant career to get into as
there is a wide variety of roles with the opportunity to progress.
"There's no denying the COVID-19 pandemic has been hard for
everyone, but I think it's important to note that all staff, including
nurses, have really stepped up to the challenge and I think
International Nurses' Day is a great way to recognise that."
Following the passing of the Government's new Health and Care Act,
integrated care boards will be introduced this summer, taking over the
organisation of local health and care services from the current clinical
commissioning groups, which will be closed down.
When the new organisation is formed on 1 July, Sarah, who began her
career as a staff nurse having trained at Bradford University, will be
its chief nursing officer.
Since she qualified, Sarah has worked as a diabetes nurse specialist,
then a diabetes nurse consultant and deputy director of nursing.
Most recently she was the chief accountable officer at St Helens
Clinical Commissioning Group, executive director of people's services
at St Helens Council and then executive director of strategy and system
development for the Cheshire and Merseyside Health and Care Partnership.
Sarah said: "I've only been in this new role for four weeks, but I
have already met a lot of nurses with real ambition and passion to
deliver excellent care across Lancashire and South Cumbria and that is
very inspiring.
"One of my ambitions is that we really listen to the experiences of
local people and focus on improving access to services and better health
outcomes. I also want to improve the experience that people have when
using our services.
"I want nurses to be involved throughout the improvement process, not
only to help raise our aspirations but to also raise the profile of
nursing across the health care system."
Sarah is keen to meet colleagues working across social care and to
support greater collaboration and integration.
She said: "I'd like to develop new ways of learning from patients. I
want Lancashire and South Cumbria to be an ICB with a reputation for
delivering excellent care and being one of the best systems to work in.
I really believe this is achievable."