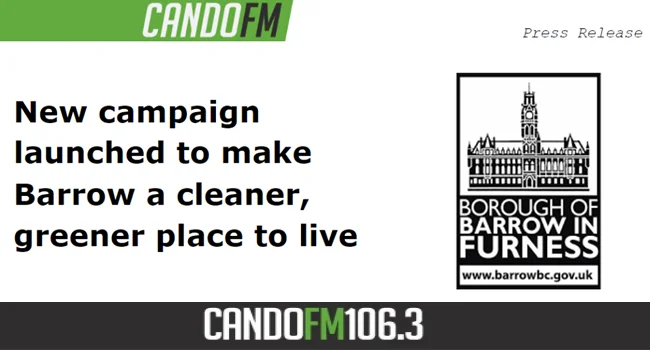 NEW CAMPAIGN LAUNCHED TO MAKE BARROW A CLEANER, GREENER PALCE TO LIVE.
RESIDENTS across Barrow are being urged to protect the environment and boost pride in their local area with the launch of a new campaign.
Cleaner Greener Barrow will highlight exactly which items can be recycled in Barrow in a bid to increase the borough's contribution to a healthier planet – as well as reducing the amount of waste going to landfill.
The campaign will also aim to clarify the rules around waste collection in the borough to help keep neighbourhoods cleaner and tidier for everyone to enjoy.
Councillor Ann Thomson, the leader of Barrow Borough Council and lead member for greener and cleaner neighbourhoods, said: "Recycling as much as we can is the right thing to do for our borough, but also for the environment as a whole.
"We need to make sure the recycling we collect from homes is sorted well though because this makes the items easier to transform into something else.
"Unfortunately, when non-recyclable or unsuitable items are placed in the recycling, it means that particular box or bin is considered contaminated.
"We all need to do our bit when it comes to deciding which items to place in the recycling. Hopefully, Cleaner Greener Barrow should help make things clearer than ever before."
A new policy on recycling and waste has been formally adopted by members of Barrow Borough Council's Full Council.
It sets out how recycling operatives will inform residents if their recycling is contaminated with non-recyclable items using a hanger that notifies which item was not allowed.
A further incidence of contamination will be followed up with a home visit to offer advice and information about recycling in the borough. On the third occasion, a formal notice will be issued to the householder. Finally, householders who continue to place the wrong items in their recycling could be subject to a fixed penalty notice.
The new campaign; Cleaner Greener Barrow, will be launched on Barrow Borough Council's social media channels to highlight how residents can recycle effectively from now on – with everyone contributing to improved rates of recycling in the future.
It will also confirm essential information around waste collections – such as when residents should leave their bin out to ensure it is emptied, when to take it in again and what to do about larger items if they can't be taken to Cumbria County Council's tip facility.
A handy guide will also be distributed to each household in the borough as an easy reference for residents who need to check whether an item can be placed in their recycling or should instead go into the waste bin.
And lots of helpful information will be available on the barrowbc.gov.uk/recycle webpage where residents can carry out a range of functions such as ordering a new recycling box or bin, reporting incidents of fly-tipping and checking which items can be collected as part of the borough's bulky waste collection service.
Cllr Thomson said: "This campaign will help our residents to understand what they can and cannot recycle in very easy steps to show how simple it is to do.
"As a community, we need to raise awareness of why recycling is so crucial for our environment and the future of our planet."