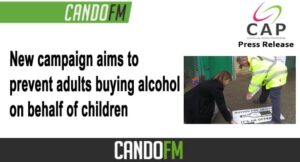 During Alcohol Awareness Week from November 15-21, Millom Community Alcohol Partnership (CAP) is launching a campaign to raise awareness of the dangers of 'proxy sales', where adults buy alcohol for under-18s.
The CAP is a partnership of local authorities, police, schools, retailers, neighbourhood groups and health providers, working together to prevent alcohol-related harm to young people and improve the quality of life for residents.
Its campaign will use some innovative ways of engaging local residents and getting the message across that it is an offence in the UK for any person to buy or attempt to buy alcohol for anyone under 18, and anyone found doing so is liable to a £90 fixed penalty notice or possibly a conviction.
Shops will display posters and information leaflets will be given out at local licensed premises, warning about the harmful impact of underage drinking on young people, including its consequences for their health and its influence on antisocial behaviour in the community. Millom school and children's centre will also be raising awareness internally.
Residents will also see messaged sprayed in temporary chalk paint outside main shopping areas, advising adults not to buy alcohol for under 18s.
Millom CAP was launched in March to highlight the risks of underage drinking and improve the health and wellbeing of local young people. Partners include Cumbria Alcohol and Drugs Advisory Service (CADAS), Cumbria County Council, Copeland Borough Council, Copeland Neighbourhood Policing Team and youth project Shackles Off.
Leigh Williams, CEO of CADAS and chair of Millom CAP, said: "As partners, we try many different ways to reinforce our messages about alcohol harms to young people. We know that many underage drinkers get access to alcohol through adults and this is not only illegal but can put young people into dangerous and vulnerable situations."