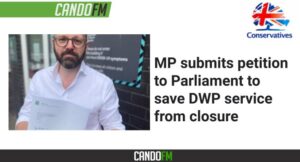 Simon Fell, Barrow and Furness' MP, has presented a petition to Parliament calling on the Department for Work and Pensions to ensure that the services currently housed at Phoenix House in Barrow are not withdrawn.
Several dozen petitioners have signed the paper copy of the petition, with more than three hundred signing up via the MP's website.
Presenting the petition at the close of business in the House yesterday, Mr Fell said:
"I was very glad to present this important petition in parliament today.
"The threat to our community is beyond the more than forty jobs that are at risk.
"Because of our proud industrial heritage, we have a disproportionately higher rate of related illnesses that the amazing team at Phoenix House help and support with their benefit payments.
"It is widely accepted that Phoenix House is no longer fit for purpose. Through the regeneration projects going in the town, however, there are ample suitable alternatives to house this team, and it is essential that we all do our best to retain this service in Barrow."
Mr Fell thanked everyone who's backed his campaign thus far, and stated his intention to join a public demonstration against the closure planned for Saturday this week.
"The weight of feeling from Furness based residents is very clear. I've been working together with unions, staff, service users, other MPs in Parliament on a cross party basis and campaign groups.
"I'll be joining members of the public in the demonstration against the plans on Saturday, and I'll continue to press the Government on this."