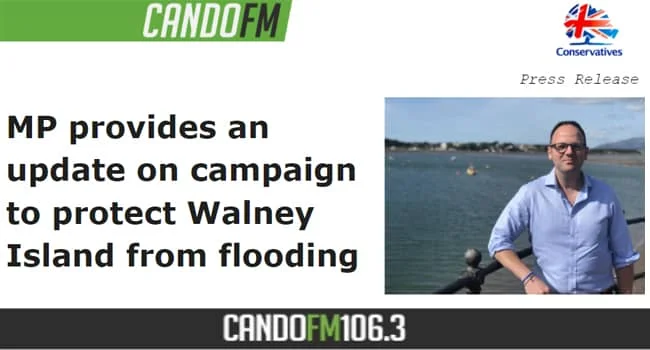 The MP for Barrow and Furness, Simon Fell, is leading the campaign to protect Walney Island from flooding.
Walney is home to around 12,000 residents. In the worst weather, the island splits into two, owing to onshore flooding from the tide (Irish Sea).  Major roads and communities, including a 13th century village "Biggar" are flooded and impassable for days, if not weeks.  Many homes and businesses are put at risk.  Studies suggest that failure to mitigate against this flooding will see Walney Island being underwater by 2050.
Walney is home to a caravan park with static homes and an onsite leisure centre welcoming thousands of tourists each year.  There is a nature reserve which is home to Cumbria's only grey seal colony alongside marine birds, wildflowers and other protected wildlife.
The island also has a 16.2 mile stretch of the England Coast Path which opened to the public in February last year. This path is already part-submerged in the worst weather.
Another contributing factor to flooding on Walney is caused by manhole chambers which are maintained by United Utilities.
Mr Fell has been making the case to United Utilities to ask them to inspect their chambers in Walney Channel. Commenting Mr Fell said:
"Local people are rightly concerned by the prospect of Walney Island being under water by 2050. Walney is an incredibly important community to our area.
"I have held meeting with United Utilities recently to discuss the challenges presented to Walney by flooding through the manhole cambers.
Given the location of these chambers, in a SSSI site, permission is required from Natural England before United Utilities can go in to inspect their chambers.
"I have been assured that permission is expected soon, and inspections can then take place. Following on from that, I'll be back in touch with United Utilities to ensure that any work which is required is completed.
"If any resident has issues or concerns on flooding, I would ask them to come forward and work with me on the issue."