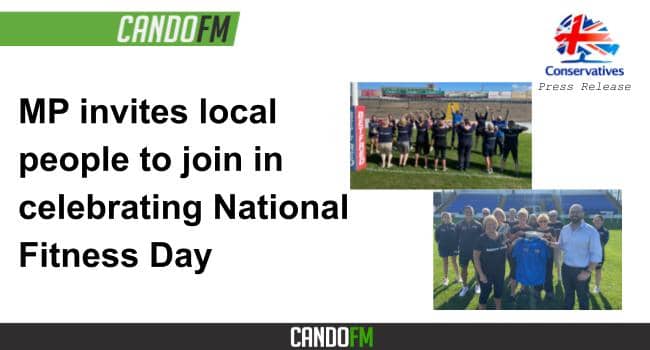 Simon Fell, the member of Parliament for Barrow and Furness, is calling on residents across Furness to get active and to take part in an activity in Furness to mark National Fitness Day.
The day highlights the benefits and importance of physical activity, and is championed by former Paralympic Gold Medallist Baroness Tanni Grey-Thompson.
People across the nation, major brands, sporting and activity bodies, and public figures will be united in celebrating sport and physical activity today.
Last year, despite the effects of Covid-19, National Fitness Day engaged more than 19.1 million people in physical activity, with thousands of events taking place across the country. National Fitness Day, supported by TRX Training Club, will see people of all ages, backgrounds and abilities come together to celebrate the fun and benefits of physical activity in our daily lives.
This year marks the 10th anniversary of the campaign, which for the past decade has helped millions of people of all ages, abilities and backgrounds to find or rediscover a fitness activity they love. National Fitness Day in 2020 was delivered under the theme of Fitness Unites Us, which became more prominent after the outbreak of Covid-19.
Mr Fell is urging as many people as possible to get involved.
Commenting, Simon said: "The past 18 months have been extremely difficult for physical activity, both for people who have been unable to take part in their usual sport or fitness activities, to providers who have had their doors closed and seen revenue dry up entirely. National Fitness Day represents an opportunity to highlight the value of physical activity to everyone in Barrow and Furness.
"Locally we have so many great grassroots sports clubs and groups that you can involved with. For example, I had the pleasure of joining my good friend Ann and others at Barrow Raiders 'Silver Raiders' walking rugby group. It was a great laugh, social, and helps to keep people active at any age.
"We're very lucky in Furness to have so many active travel routes, with many more upgrades planned for the coming months. Like many of you, I chose to cycle into work most days, and encourage you to choose active travel where you can."