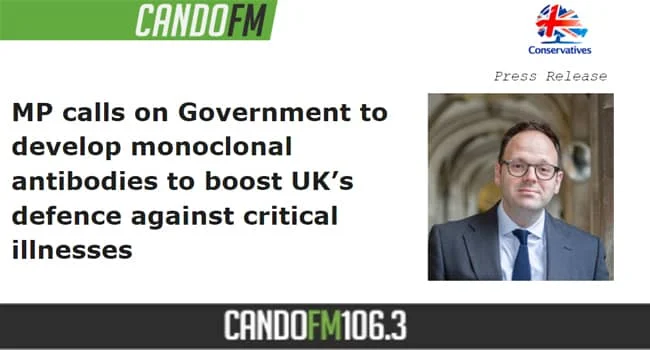 Simon Fell, the MP for Barrow and Furness, has asked the Secretary of State for Health and Social Care to provide an update on the Government's plans for the development of monoclonal antibodies.
A monoclonal antibody is an immune system protein that is created in a laboratory, and have been approved to treat some forms of cancer.
Mr Fell hopes that the antibodies could be one option for a lasting meaningful legacy at the GSK Ulverston Site.
Last year Lakes Bioscience submitted a planning application to build a manufacturing facility at the Canal Head site.
Taking part in the Health debate remotely from his office in Barrow, the local MP said:
"A good defence rests on having a good range of options. Kate Bingham said recently that not having monoclonal antibodies as part of our response leaves us with 'a gap in our armour'.
"Could my RHF update the House on his Departments plans on this subject?"
Responding, the Secretary of State confirmed that the Government are working 'very hard' on the subject, saying:
"Yes, this is an incredibly important subject and we are working very hard on it with clinical leads and external experts."
The question came after Mr Fell said that he'd learned of the Department for Health using the names of submarines built at Barrow's BAE Systems (formerly VSEL) as codenames, while the vaccines were in development.
The MP said:
"I was listening to the excellent "Covid Confidential" podcast on the BBC and was surprised and delighted to find out that when the various vaccines were nearing production they were named after submarines built in my constituency."
Mr Hancock responded by saying that "success has many fathers" and that he was sure that "the people of Barrow are very proud of their role in making sure that we could keep what needed to be kept confidential, confidential."