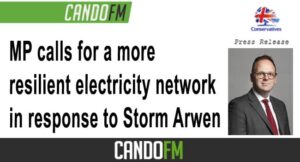 Simon Fell MP has submitted a collation of the responses received by his office concerning Storm Arwen being sent to reviews to be conducted by ENW, BEIS and Ofgem.
Whole villages, isolated homes and parts of streets were left to cope with extremely challenging conditions as a result of the power outages following Storm Arwen from 10pm the evening of Friday 26th November 2021.
The initial days after the storm were extremely cold, and below freezing for a period of time. Many of these rural properties had no heat, water or means of sanitation as a result of the power cuts. Many also had no mobile signal due to storm damage to telephone lines, and mobile network masts going down.
The local MP for Barrow and Furness, Simon Fell, is making the case to the body that regulates power providers, 'Ofgem', by way of responding to the industry body's call for evidence, as the service providers look to learn the harsh lessons in the aftermath of one of the areas worst storms for twelve years.
Commenting, Simon said:
"Lots of residents reported to me that they had no communication from their power company, and were left with little to no idea when power would be restored.
"Meanwhile, homes without a gas supply, or whose water system relied on electricity had even more difficulty. Broughton-in-Furness was without water or power for 18 hours as the water pump serving most of the village relies on electricity. This resulted in no heat, light, water or sanitation facilities.
"This simply isn't good enough, and I've shared the thoughts of those affected by Storm Arwen with Electricity North West, BEIS and Ofgem so that lessons can be learned for the future."
As part of his submission, the local MP refers to further logistical challenges that households across Furness had to endure. Phone masts, electric power cables, and mobile networks all fell across areas such as Broughton, Seathwaite, and areas of Ulverston.
Many residents lost food that was stored in freezers, and were unable to check on their vulnerable relatives, neighbours, or colleagues.
Simon said:
"Some constituents were unable to leave their property for periods of time due to their pets, and a few could not charge their electric cars. Other vulnerable constituents were able to stay with friends, but leaving home was a challenge.
"Freezers packed with Christmas or lockdown ready food was spoiled. Some homes had no access to hot food until the Monday, when more local support/resilience group support was able to be put in place.
"Constituents explained having to drive to an area with signal to call for an update. They describe sitting for hours, even days without the usual traffic of information or comfort, unsure as to the length of time they would be without power and unsure as what to do for the best for their families.
"Older and vulnerable constituents were difficult to contact and were reliant on their neighbours or relatives highlighting their plight. We were contacted by family members from Leicestershire unable to check on the state of their 79 year old mother's power.
"In Ulverston, a handful of houses and a block of sheltered accommodation were not reconnected or recognised as an area requiring attention until local Councillors, the MP, and multiple constituents contacted ENW. It felt to some that they were being left behind or hadn't been included."
Calling on lessons to be learned, so that residents receive better lines of communication from energy suppliers, and for greater resilience in Furness' power supplies, the MP said:
"Storm Arwen tested the resilience Barrow and Furness' electricity network and found it lacking. Some homes experienced over a week without electricity in freezing temperatures. While ENW clearly worked hard to reconnect and communicate with customers, it is only right to ask questions about resilience for the future, especially as we are increasingly reliant on electricity for power, heating, communication and transport.
"Planning for the future will mean answering some of the major concerns of my constituents – namely building a more resilient electricity network, and ensuring that in the event of another failure, as that precipitated by Storm Arwen, that communications are meaningful and available to people, and that those who are most vulnerable and in need are prioritised."