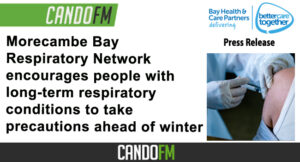 With winter just around the corner, Morecambe Bay Respiratory Network (MBRN) is encouraging those who have long-term respiratory conditions to take precautions to avoid becoming really unwell.
Top tips from the MBRN:
Have your flu jab
Have your Covid booster
Have an anti-pneumonia vaccine if you have Chronic Obstructive Pulmonary Disease (COPD), bronchiectasis or pulmonary fibrosis
Stay warm (If you need help with heating costs, you might be entitled to welfare benefits. See our Q&A for more advice)
Avoid contact with people who have symptoms of cold or flu
Keep active
Agree on a care plan with your health care professional.
Dr Pat Haslam, local GP and joint Clinical Lead of the MBRN, said: "By autumn you should start to think about ways you can keep yourself well during winter if you are living with a long-term respiratory condition.
"Cold weather can trigger a flare-up of your symptoms if you have a long-term respiratory condition and make you more vulnerable to illnesses. But there are things you can do to look after your lungs this winter."
Dr Haslam added: "Knowing what to do when your symptoms get worse is very important. Patients with Asthma, COPD and Bronchiectasis should have a self-management plan, make sure you know where yours is.
"Making sure your Flu, COVID and Pneumonia vaccinations are up to date will help protect you from exacerbations.
"For those patients on inhalers there are excellent websites which can help you with your technique, pharmacists and practice nurses can also help. Make sure you have enough inhalers in stock and know how to use them."
Dr Haslam added: "Being active and hydrated is so important for patients with respiratory diseases – do what you can, if you are concerned then the British Lung Foundation have lots of information. We also have patient support groups and wonderful community teams which can help."
For more information and tips read our Q&A with Dr Pat Haslam on the Bay Health and Care Partners website here https://www.healthierlsc.co.uk/morecambe-bay/news/keeping-well-cold-long-term-respiratory-condition.
You can find out more about Morecambe Bay Respiratory Network here.
Support is also available: