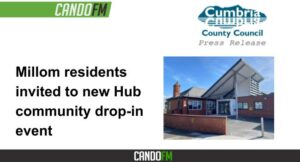 Millom residents are being encouraged to take the opportunity to hear from Cumbria County Council and Copeland Borough Council about plans to modernise the Community Hub and create a new home for public services in the town.
Anyone can come along to the event to find out more about the plans to transform the building into a new and modernised community hub. It will be held in Millom Community Hub, adjacent to Millom School, on Tuesday 7 June 2022 between 3.30pm and 7pm. No appointment required; residents can drop in at any time.
The modernised building will bring together public services in a fit-for-purpose setting, from which the public will be able to access a range of services, including Millom Library, Community Learning & Skills, Revenue and Benefits, Copeland Borough Council, Millom School Reception and Phoenix Enterprise Centre alongside office bases for the NHS and Police.
The building that currently houses Millom Library (on St George's Road) will be used by Sellafield Limited for their Millom based staff and those in the surrounding area. This will bring an increased footfall within the town during the day to complement other projects that form part of the Town Deal. Sellafield Limited will take on an extensive renovation, bringing further investment into the town.