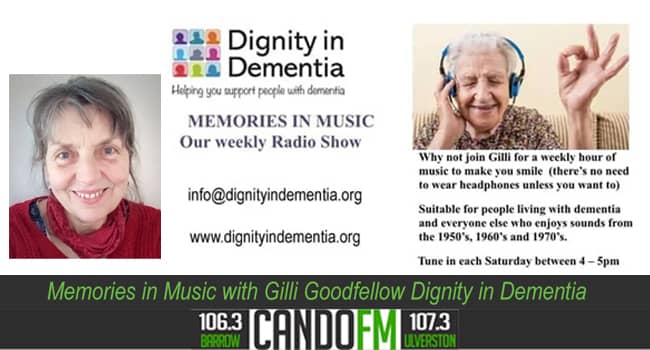 This week on the show Gilli chats to Lesley Gill from Dignity in Dementia about the supported group walks especially for people living with dementia and their family carers, in the Barrow and Furness areas. Lesley explains about the benefits of a little gentle exercise and the social aspects of the walks, which always end at a café!
Also on the show Diane Smillie from Dignity in Dementia is back with another of Di's Helpful Hints for family carers. This week she is talking about 'Sundowning' – that time of day that can cause people living with dementia to feel more insecure and see things in the shadows. Di explains what causes it and gives tips for how carers can cope.

The walks are free and take place fortnightly, on Wednesdays at 10,30am. The next one is on 21st July, starting from the car park at Barrow Park.
For more information on the walks and for all behavioural support, please contact:
Diane Smillie, Dignity in Dementia
info@dignityindementia.org
www.dignityindementia.org
Tune into Memories in Music every Saturday from 4pm.