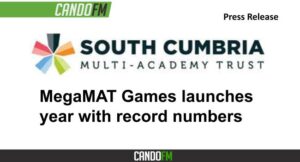 A primary school sports competition backed by the South Cumbria Multi-Academy Trust has launched for this academic year with record numbers.
Around 400 pupils from 21 schools across Furness took part in the Primary MegaMAT Games cross country event at Chetwynde School this week.
The Primary MegaMAT games is a full calendar of multi-sports competitions including hockey, netball, swimming and a host of other sports. It is organised by Chetwynde, which joined the Furness College-led SCMAT in September last year.
Organiser Katy Costa, Chetwynde's Phase 2 Lead and PE teacher, said she was delighted with the growth of the event, which is helping to keep young people active and competing.
"Last year we had 13 schools with 150 pupils taking part but the response this year has been phenomenal. We are over the moon to see so many children enjoying themselves and taking part in sport.
"There was a bit of rain but they were all fantastic and showed great determination to complete the course and we've had so much positive feedback. A big thank you also to our senior pupils who helped out guiding the runners around the course."
The winners were from Year 3 to Year 6 across a range of schools. Dexter from Dane Ghyll won the Year 3 boys, Jacy from Low Furness won the Year 3 Girls. Year 4 race winners were Nathan from Sir John Barrow and Emilie from Low Furness. Alfie from St Columba's Primary and Izzy from Parkside were first in Year 5 while Noah from Sir John Barrow and Imogen from Yarlside crossed the line first in the Year 6 event.
The event, which continues next month with hockey at Furness College's Channelside campus, sees points accumulated for each event with a winner declared in the summer.
Last year's winners were Chetwynde, runners up were Yarlside Academy and Holy Family Primary won the award as the highest number of participants.
Winners were presented with their medals by Executive Head Teacher and CEO of South Cumbria Multi-Academy Trust Professor Andrew Wren alongside Chetwynde Headteacher Steve Jefferson.
"When we launched this event, we could only dream that it would grow so quickly and for the benefit of so many pupils," said Professor Wren. "It is open to all schools, not just those in our Trust, as we are committed to help all pupils build their confidence, leadership and teamwork through sport."
For further information about joining the South Cumbria Multi-Academy Trust, visit the website www.scmat.org.uk or email info@furness.ac.uk with the heading SCMAT.
Full list of winners
 
Y3 Boys
Y3 Girls
Y4 Boys
Y4 Girls
Y5 Boys
Y5 Girls
Y6 Boys
Y6 Girls
1st
Dexter Dane Ghyll
Jacy

Low Furness

Nathan

SJB

Emilie

Low Furness

Alfie

St Columba's

Izzy

Parkside

Noah

SJB

Imogen

Yarlside

2nd
Henry

Parkside

Libby

Low Furness

Leo

Dane Ghyll

Myla

Newbarns

Henry

SJB

Keavy

Barrow Island

Jude

Dane Ghyll

Madisyn

SJB

3rd
Caleb

Yarlside

Rhia

LAMPS

Caleb

Vic Academy

Amelia M

Yarlside

Charlie

SJB

Harlow

St Pius

Harry

Yarlside

Karolina

SJB

4th
Ben

Low Furness

Marnie

Yarlside

William

Yarlside

Freya

Yarlside

Mason

Vickerstown

Martha

Holy Family

Arthur

Yarlside

Ava

Chetwynde

5th
Daniel

Dane Ghyll

Bella

Roose

Leon

Yarlside

Polly

SJB

Oscar

S Walney

Norah

Chetwynde

Josh

Chetwynde

Amelia

Dane Ghyll

6th
James

Dane Ghyll

Daisy

Chetwynde

Ellis

Low Furness

Harper

St Pius

Henry

Dane Ghyll

Lily

S Walney

Dylan

Dane Ghyll

Leah

Barrow Island

7th
Oliver

Roose

Gabrielle

Holy Family

Otis

Low Furness

Florence

Holy Family

Alex

SJB

Esme

Yarlside

Ethan

St Columba's

Poppy

Dane Ghyll

8th
Stanley

Roose

Chloe

Chetwynde

Josh T

S Walney

Lucy G

Low Furness

Harry

Holy Family

Lola

St Columbas

Kayden

Ormsgill

Eleanor

Low Furness

9th
Ted

LAMPS

Ashling

Holy Fam

Harry

Dane Ghyll

Maisy

SJB

Leo

Dane Ghyll

Daisy

Yarlside

Reggie

Yarlside

Annie

St Columba's

10th
Taran

Chetwynde

Macie

Cambridge

Ollie S

Yarlside

Isabelle

Chetwynde

Lewis

Vic Academy

Rashi

Chetwynde