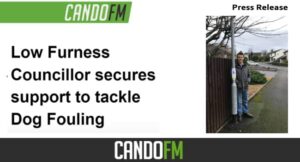 Low Furness Councillor Ben Cooper has welcomed support from South Lakeland District Council to help tackle dog fouling, following local complaints, as instances of dog mess on public footpaths, pavements and grass verges are on the rise again with perpetrators taking advantage of longer winter nights.
In a written response to Councillor Cooper, South Lakeland District Council confirmed they would be patrolling areas reported to be dog fouling hotspots and enforce fixed penalty notices against offenders.
Commenting, Cllr Ben Cooper said "I've been out and about across Low Furness in recent weeks with our latest "Clean Up after your Dog" campaign posters. Dog fouling is a disgusting offence, and a serious public health hazard, which carries a fine of between £75 to £1,000. Local residents have been in touch with me, flagging this as a major concern, so I'm glad we're now delivering for them.
"More signage in the worst-affected areas will remind people that this is an offence, and I want to see more people fined when they've left their dog mess in public spaces, so it's great to have secured support for dog fouling patrols across Low Furness"
The issue was raised by numerous local people at the Furness MP, Simon Fell's Summer Surgery Tour in July. Commenting, Simon said:
"This proves the benefit of elected members such as Ben and I, getting out into all corners of our patch, and listening to local people about the problems they face in their day-to-day lives.
"Many local people raised the issue of dog fouling with me, and it's been a source of great frustration. Through working together with Cllr Cooper, we've been able to secure support for dog fouling patrols so more people will be fined when leaving their dog mess in public spaces"
If you think an area requires further attention from the SLDC locality team, or there's dog mess which needs removing, you can report this through the online reporting form; https://tinyurl.com/SLDC-Dog-Fouling