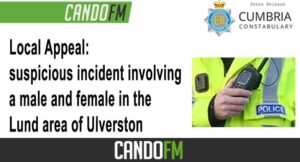 Police received an email via 101, reporting a suspicious incident involving a male and female in the Lund area of Ulverston.
The report was of a female being followed by a male not known to her, at around 9:55pm on the 12th November. The male was also reported to have been acting suspiciously.
Police attended the scene. Patrols were increased in the area and multiple lines of enquiry are being followed.
A police spokesperson said: "We take reports of this nature incredibly seriously. Officers are robustly investigating the incident to try an identify the circumstance, this includes identifying the male.
"The male is described as wearing a black Nike (glow in the dark) Jacket, he was also wearing a cap.
"We would appreciate the public's help in providing any information they have on the incident, including identifying the male.
"We have increased patrolling in the area for reassurance and investigative purposes."
Police are appealing for information from anyone in the area around that time who saw the man or anything suspicious or from anyone with information about the incident.
Anyone with information can contact police via www.cumbria.police.uk/reportit or by calling 101.
Reports can be made, completely anonymously, to independent charity CrimeStoppers on 0800 555 111.
The reference number to include with reports is: log 74 of the 13th November 2021.