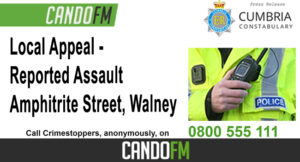 Following new lines of enquiry, police are appealing for witnesses to a reported assault on Amphitrite Street, Walney. The reported incident occurred on the 24th January 2022 at around 8:35pm and involved two local teenage boys aged 16 and 15.
The 16-year-old boy sustained minor injury that did not require hospital attention.
Police are appealing for witnesses to the incident.
Police are especially keen to trace a man who stepped in to stop the assault. He had been driving past the incident when he stopped to assist.
Anyone with any information is asked to contact police via www.cumbria.police.uk/reportit. You can also call 101.
To report information completely anonymously, contact independent charity CrimeStoppers, on 0800 555 111.
The refence number to include is CRI 001 284 85.