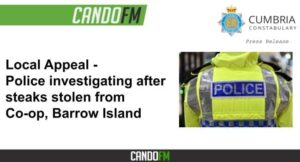 Police are investigating after steaks with a total value of more than £47 were stolen from Co-op on Barrow Island.
It happened on November 25 at about 5.20pm.
Officers are appealing for any witnesses or anyone who has any information to contact them.
Anyone with information can report online at www.cumbria.police.uk/report-it, quoting incident 241 of November 25. You can also phone on 101.
Alternatively, you can contact Crimestoppers anonymously on 0800 555 111.