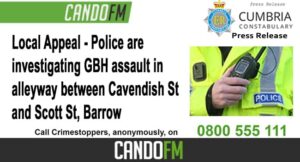 Police are investigating a GBH assault which occurred in the early hours of Saturday 13th November. The incident occurred in the alleyway between Cavendish Street and Scott Street, Barrow-in-Furness.
The reported incident involved two men.
A local man in his 40's sustained a broken jaw.
Police are appealing for witnesses or information regarding the assault.
Anyone with information relating to the incident can report online at www.cumbria.police.uk/reportit, quoting incident number 41 of the 18th November. You can also call 101.
Alternatively, you can contact independent charity Crimestoppers, completely anonymously, on 0800 555 111.