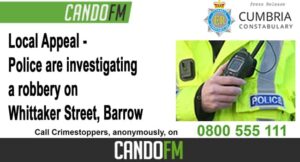 Police are investigating a robbery which occurred on Whittaker Street in Barrow on the late evening of Friday 26th November between 8pm and midnight.
A woman has reported being assaulted resulting in no injury and having her phone stolen by an unknown male.
Anyone with information relating to this incident can report online at www.cumbria.police.uk/reportit . You can also contact the OIC, PC 2511 on 101 quoting crime reference number CRI00122477.