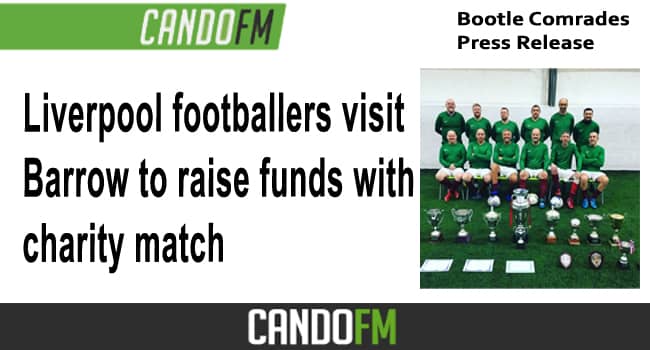 A group of keen amateur footballers are facing up to a Barrow and Walney Select XI to raise funds for Furness Carers and Mind in Furness this coming Saturday.
The players from Bootle Comrades will brave the conditions at Tummerhill on Saturday 9th October at 12:30, with the Mayor, Cllr Helen Wall, ceremonially kicking the game off.  The players will compete against a group of local amatuers from Barrow and Walney, before heading off to catch Barrow AFC face Leyton Orient at Holker Street.  The day will finish with "rehydration" at the game's sponsor The Robin Hood, on Crellin Street.
Game organiser Alec Proffitt said it was quite a coup getting the game on:
"Although they're a certain age, and an even more questionable ability, the Bootle Comrades have played all over Europe and even took a side to Palestine for a three match tour three-years ago".
"They play every week so they know each other inside out, it will be a test for our scratch XI but we are determined to do Furness proud" he continued.
Mayor Helen Wall said of the game:
"It is great that the group of players want to come across, play a game and take in the sights and sounds of Barrow.  I am delighted to support the game and am glad they've picked my Mayoral Charity, Furness Carers, as well as Mind in Furness, to raise money during their visit.  I hope the weather is okay for the game – although a brisk Irish Sea wind may help the Barrow and Walney players!"
Nigel Flanagan, a founder member of the Bootle Comrades said:
"We love visiting new places and are keen to raise funds for the two charities.  We are a team built on trade union ethics so we have a lot in common with Barrow.  We will come and enjoy the visit, but we will be focused on absolutely winning the game"
The event has been supported by Damian Rose, landlord at the Robin Hood, who is not only playing in the game but has welcomed the visiting team to enjoy hospitality at his pub after the match.  Also supporting the event is Barrow Forward, who have supplied the pitch for the game.
For those who wish to donate please use the following JustGiving link:
https://www.justgiving.com/crowdfunding/alec-proffitt-2?utm_term=MZAz2yKNn