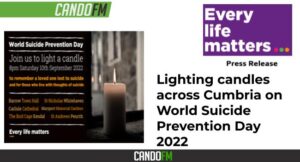 Suicide Prevention charity Every Life Matters are encouraging people in Cumbria to join others across the world in lighting a candle at 8pm on World Suicide Prevention Day 2022 – to remember those we have lost to suicide, for those living with thoughts of suicide, and to show support for suicide prevention.
Events are being held at 8pm on Saturday the 10 th September in Barrow, Carlisle, Kendal, Maryport, Penrith and Whitehaven. Those who can't make the events are encouraged to join others across the world and to light a candle in their window at 8pm.
Chris Wood, co-founder and charity manager at Every Life Matters said, "The last two years have been pretty tough, and we have continued to lose to many people to suicide in our County. Each one of these deaths is an individual tragedy with the pain and devastation it causes rippling out far and wide across our local communities. We wanted to provide an opportunity for people to come together in person, not just to remember those family members, friends, colleagues, neighbours and community members we have lost to suicide – but also as an act of solidarity and a statement to all those people struggling out there with thoughts of suicide that you are not alone."
These are informal events and people can just turn up to light a candle in memory of a loved one lost to suicide, or to show solidarity with those who are struggling right now with thoughts of suicide. There is no need to book, there will be no speeches, ceremony or pressure to speak to others. Candles will be available if you can't bring your own,
and pictures of a lost loved one and/or messages of support to go with the candles are also welcomed. People are encouraged to turn up anytime from 7:00pm onwards, ready for a minute of silence and reflection at 8:00pm.
Members of Every Life Matters and other local groups will be on hand to talk about help available to those bereaved or impacted by suicide, and about suicide prevention activity happening across the county.
Councillor Iain Mooney Lead Member for Health and Wellbeing at Barrow Borough Council said, "I've always found it important to talk about my own experiences with mental health and suicide, despite how hard it can be to open up at times. As a young male I statistically fall into the highest rate of suicide bracket. After years of battling with my own declining mental health until a point I thought all hope was lost, I decided while recovering to try to help others like me who have struggled with mental health, suicidal thoughts and attempts.
This day is important as it not only remembers those we have lost but it also highlights the importance of awareness and education."
As well as an opportunity to remember all those loved ones lost to suicide, World Suicide Prevention Day is an annual reminder that there is an alternative to suicide, and it aims to inspire confidence and light in all of us. That our actions, no matter how big or small, may provide hope to those who are struggling.
List of locations
Barrow-in-Furness | Outside Barrow Town Hall, opposite The Forum
Carlisle | In the Cathedral Grounds
Kendal | The Bird Cage, on the corner of Stricklandgate and Finkle Street
Maryport | Memorial Gardens
Penrith | Grounds of St Andrews Church
Whitehaven | Grounds of St Nicholas Church
Also in Barrow
Family Fun Day and Fun Run 12:30pm – 3pm at Salthouse Pavilion, Barrow-In-Furness LA13 9RQ
Bouncy castles, face paints, crafts and a fun run setting off at 1pm.
Family Fun Day organiser Zian Haughin said, "The reason I'm doing this is to raise awareness around suicide. I want people to know that there is always hope. When I was recently bereaved by suicide my saving grace was God and my church family. I felt lost, hurt, confused and at times angry but with the help of those around me, I was able to almost understand why someone would want to leave this life behind, leaving so much pain. Life got too much for my mum but the two services that I am supporting were able to support me through the pain. The journey is long and the pain will never go away but by putting on this event is helping me to carry on. It's giving me a focus. And I hope that by doing this, others will feel supported whether they have been bereaved themselves or are struggling with their own
MH. I have struggled with my MH for years and at one point felt suicidal myself I was lucky to have loved ones around me that were able to help me through, sadly that's not always the case, it's not always easy for the one struggling to open up but if I know anything it is so important to talk!
So what do I want from all this, for those bereaved to feel supported but also to avoid suicide. It pains me every time I hear of a suicide. I want to be part of the change. I want to help break the stigma and I want people to have healthier minds."
Press Attendance
We welcome press at the event but would ask that you check-in with a member of Every Life Matters when arriving. We can arrange for interviews with attendees, and with members of Every Life Matters, and we would ask that any photos or film footage of the event avoids identifying attendees.
Useful information
From Grief to Hope | The collective voice of those bereaved by suicide
Suicide facts for journalists and programme makers | Samaritans' media guidelines
Guidance for working with people bereaved by suicide | Samaritans' media guidelines
Guidelines for reporting suicides | Samaritans' media guidelines