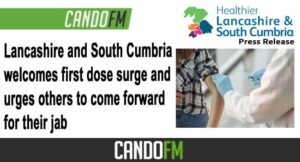 The NHS in Lancashire and South Cumbria has welcomed a significant increase in people coming forward for their first dose of the COVID-19 vaccine – and urged others to book their jabs in the run-up to the New Year.
More than 8,000 people attended first dose appointments in the 12 days before Christmas and over 11,000 came forward for their second dose.
The numbers of people asking for first doses have increased since reports of the Omicron variant and the announcement of plans to accelerate COVID-19 booster jabs to protect as many people as possible by the end of the year.
The NHS has delivered more than 3.3 million doses of the vaccine in Lancashire and South Cumbria to date and vaccinators are working throughout the festive period to help thousands more get a great start to 2022.
The COVID-19 vaccination has been proven to protect against severe illness and hospitalisation. The majority of people that have been hospitalised with COVID-19 recently have been those who are unvaccinated.
It is never too late to get your COVID-19 vaccine and whether you still need to have your first or second dose, or you're coming forward to get boosted, our doors are open to you.
Jane Scattergood, Senior Responsible Officer for the COVID-19 Vaccination Programme in Lancashire and South Cumbria, said: "Everyone aged 18 and over who has had a second vaccine more than 91 days ago should come forward and get their booster.
"But importantly we also very much want to see you if you haven't had a vaccine at all yet. It's never too late to have your first dose and there will be no questions asked – we will just be pleased that you've come forward and we will give you a vaccination that offers the best protection against the virus.
"The new Omicron variant is spreading extremely quickly and we are seeing more people in hospital with COVID-19 than we have for many weeks. There's no room for complacency – we're asking people to have their vaccines as soon as possible and not wait, whether it's your first, second or booster.
"Lots of us find ourselves at a loose end between Christmas and the New Year – the very best thing you can do with that time is to go to a walk-in centre and get your next vaccine dose."
You can find your nearest walk-in site here: https://www.nhs.uk/conditions/coronavirus-covid-19/coronavirus-vaccination/find-a-walk-in-coronavirus-covid-19-vaccination-site/
There are more than 300 sites across the North West offering first, second and booster doses of the COVID-19 vaccine, and the national booking system (NBS) is open to all eligible adults to quickly and easily book an appointment online.
Young people aged 12-15 can now book both first and second doses on the NBS too.
Book online at https://www.nhs.uk/conditions/coronavirus-covid-19/coronavirus-vaccination/book-coronavirus-vaccination/ or call 119.