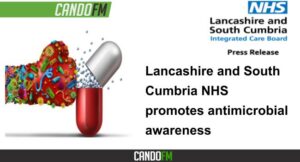 The risks of antimicrobial resistance are under the spotlight in Lancashire and South Cumbria, in support of a global effort to ensure a world free from deaths caused by drug-resistant infections.
Antimicrobial Resistance (AMR) occurs when bacteria, viruses, fungi and parasites change over time and no longer respond to antibiotics, making infections harder to treat and increasing the spread and risk of severe illness and death.
Antibiotic resistance is a huge health crisis, responsible for 700,000 deaths around the world each year.
Without effective antibiotics, treatments we take for granted such as routine surgery and some cancer therapies could be too risky to undertake, and simple infections such as ear, throat, skin, blood and urinary tract infections could lead to serious complications including sepsis.
Medicines Optimisation teams, working within the Integrated Care Board in Lancashire and South Cumbria, are working closely with GPs, pharmacies, hospital Trusts, care homes, community teams, councils and local organisations to share information, training, support and resources.
At Lancashire Teaching Hospitals NHS Foundation Trust, the enthusiasm for antimicrobial awareness has been shared between colleagues and relatives alike. After learning about antibiotic resistance, the daughter of one of the Trust's consultant microbiologists was inspired to create a short, informational video to highlight the key messages. Watch the video at: https://youtu.be/gOCmGYN2y9M
This work has been echoed in Morecambe Bay, with events held including the well-attended 'Antibiotic Learning Café', organised and supported by Dr Kate Ogah, consultant microbiologist at University Hospitals of Morecambe Bay NHS Foundation Trust. A review of the current local prescribing and resistance patterns was carried out, and attendees were also encouraged to make an antibiotic guardian pledge.
On the Fylde Coast, the Medicines Optimisation team acted as ambassadors and joined forces with Public Health Blackpool and local schools, providing schools with resources for World Antimicrobial Awareness Week (WAAW) later this year, engaging with headteachers and local clinicians, and championing antibiotic guardianship.
Dr Lindsey Dickinson, associate medical director for Lancashire and South Cumbria, said:
"The more antibiotics are used to unnecessarily treat minor conditions, the more likely they are to become ineffective for treating more serious conditions.
"Everyone can be an antimicrobial resistance awareness champion. Remember to always take the advice of your GP, pharmacist or healthcare professional to help keep antibiotics working effectively.
"We are proud to support antimicrobial awareness and to champion for the better use of antibiotics in our communities."
Find information on antibiotic resistance via the NHS UK website: https://www.nhs.uk/conditions/antibiotics/antibiotic-antimicrobial-resistance/
How can I get involved?
For individuals…Antibiotic Guardian
Become an Antibiotic Guardian and choose one simple pledge about how you'll make better use of antibiotics and help save these essential medicines from becoming obsolete: https://antibioticguardian.com/
For schools…e-Bug
Schools can access e-bug, a free educational resource for ages 3-16, to support students to learn about microbes, infection prevent and control, antibiotics and vaccination. Each lesson plan is mapped to the National Curriculum and includes activities, handouts, worksheets and adaptable content: https://www.e-bug.eu/
For organisations…World Antimicrobial Awareness Week (WAAW)
WAAW is held annually from 18th – 24th November and is supported by local NHS healthcare organisations, partners and the public to spread the message of how the actions of individuals, families, professionals, and communities affect the reduce spread of antimicrobial resistance: https://www.who.int/health-topics/antimicrobial-resistance