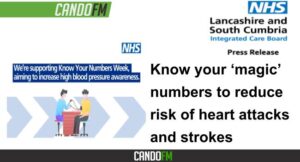 Is three the magic number? Not according to health officials in Lancashire and South Cumbria, who are encouraging residents to check their blood pressure during 'Know Your Numbers' week.
The national drive aims to get those aged 40 and over to have their blood pressure checked regularly, either at a pharmacy or via a practice nurse in GP Practices.
High blood pressure is the single biggest factor which can lead to heart attacks and strokes, and around one in three adults nationwide have it.
The symptoms are also rarely noticeable, meaning the only way to find out if your blood pressure is high is by being tested.
So what are the magic numbers?
"When it comes to your blood pressure, 135/85mmHg is the ideal reading. If you are over 75, it is 150/90mmHg," said Dr Andy Knox, associate medical director for population health in Lancashire and South Cumbria.
"Having your blood pressure under control is the single most important thing you can do to prevent yourself from having a heart attack or a stroke. If you have already had one, it could stop you having another.
"If your reading is higher than it should be, do not panic. There is plenty of support on how to adjust your lifestyle to bring it down, or effective medication where this is deemed as required by your healthcare professional."
Adults over 40 are advised to get checked at least every five years, allowing any potential problems to be detected as early as possible.
Those diagnosed with high blood pressure should be tested more regularly, at least once a year.
Many community pharmacies offer a blood pressure checking service, with appointments typically lasting between 10-15 minutes. GP Practices can also take blood pressure readings, or it can be done at home using a blood pressure monitor.
For more information on blood pressure checks, visit the NHS website: https://www.nhs.uk/conditions/blood-pressure-test/