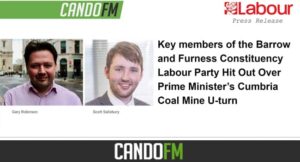 Key members of the Barrow and Furness Constituency Labour Party have hit out at Prime Minister Boris Johnson's latest U-turn which has brought controversial Conservative government plans to create a new coal mine in West Cumbria firmly into the national focus
With the assembled world's media in Glasgow for the COP 26 Summit on climate change, Johnson has joined a growing number of voices in supporting calls for an end to damaging coal-powered power stations. However, these comments fly in the face of recent Conservative backing for a new coal mine in West Cumbria.
Gary Robinson, an executive committee member of the Barrow and Furness Constituency Labour Party, called upon Barrow And Furness MP Simon Fell to either retract his support for the new coal mine in West Cumbria or publicly speak out against Johnson's latest U-turn.
"Now that Boris Johnson has flip-flopped again and is now saying he is against coal-powered power stations, then surely the Tories cannot back the Cumbria coal mine," Robinson said. "Will Simon Fell follow suit and admit that he was also wrong on this? Or will he stick with his backing for this outdated and planet-damaging proposal?
"You simply never know where you stand with the Tories. Ten wasted years backing heavy polluters and now the cameras are out at COP 26, it suits the Tory narrative to issue hollow promises with their finger in the air proposals, jumping on the climate change bandwagon.
"Labour is clear with its proposals to kick-start a Green Industrial Revolution that will create one million jobs in the UK – which will greatly benefit Cumbria- transforming our industry, energy, transport, agriculture and our buildings, while restoring nature."
As reported in The Mail, The Barrow and Furness Constituency Labour Party recently overwhelmingly voted in favour of supporting a statement initiated by Furness Young Labour at a recent All Member's Meeting to oppose the plans for the coal mine.
Scott Salisbury, a spokesperson for Furness Young Labour, said: "Simon Fell can spend all the time he wants greenwashing his climate change credentials but on a huge issue like the Cumbria Coal Mine he is entirely out of step with the views of the scientific community, the majority of young people and now the leader of his own party.
"It is incredibly irresponsible to acknowledge the existential threat of climate change while at the same time supporting initiatives which will make achieving our carbon emission targets impossible. Sadly this is the complete lack of leadership and authority that we have come to expect from Fell.
"If he's not willing to show the leadership necessary on climate change then the people of Barrow and Furness will elect someone who will," Salisbury concluded.