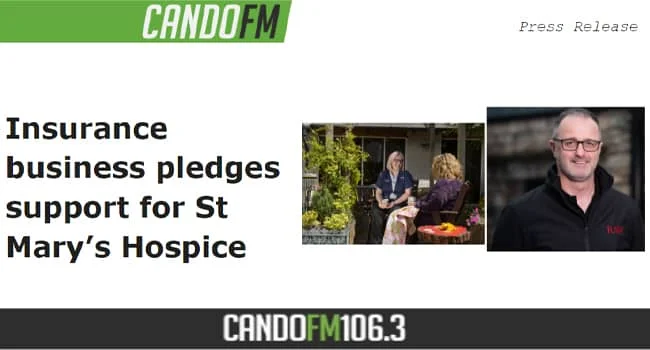 A Cumbrian insurance business is backing a local hospice charity's fundraising campaign.
RAW Insurance, which is based in Kendal and Carlisle, has teamed up with St Mary's Hospice as part of its Moments that Matter initiative.
The fundraising campaign provides an opportunity for local businesses to give back to the community by becoming 'Moment Makers', which helps ensure that the Hospice's vital work supporting people in south Cumbria continues.
Russell Linton, account executive for RAW Insurance in south Cumbria, said the move was part of RAW's commitment to giving back to the community.
He said: "The work St Mary's does is very close to our heart. I have personally seen the love and care they give to people near the end of their life and can't think of a more deserving charity.
"I think most businesses are in a position to give something back, from a relatively small or a much larger amount.
"We all need to support local charities to make sure our communities can benefit from them fully."
St Mary's Hospice, which is based in Ulverston, provides care and comfort for patients living with any life-shortening illness or long term condition and their families across south Cumbria.
Becky Brown, area fundraiser for St Mary's Hospice, said the support of local businesses made a huge difference to families and patients.
She said: "It's fantastic to see businesses such as RAW Insurance showing their support for St Mary's Hospice and joining other like-minded businesses in ensuring the sustainability and future of our hospice.
"We are living through unprecedented times, and while there have undoubtedly been challenges, there have also been wonderful moments of positivity.
"The support of local businesses in the Moments that Matter campaign ensures that we can continue to be there for those who need us, when they need us and for however long they need us."
RAW Insurance is a commercial insurance broker, which specialises in helping SME businesses in Cumbria and north Lancashire. The business recently expanded into Kendal, the south Lakes, Ulverston and Barrow, with Russell heading up the Kendal office.
For more information about St Mary's Hospice's Moments that Matter campaign visit www.stmaryshospice.org.uk or call 01229 580305.