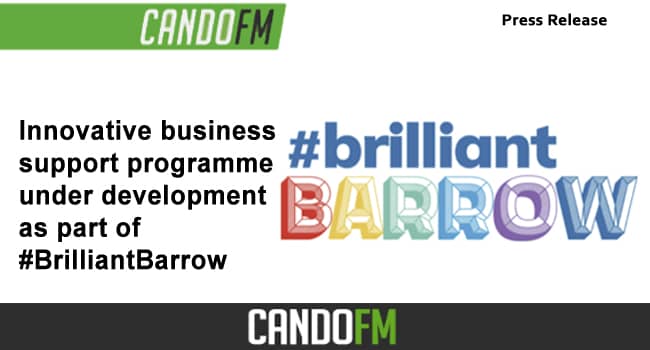 WORK is underway to develop a ground-breaking programme of business support to help people across Barrow make the most of economic opportunities throughout the area.
The scheme – which could be launched as early as April 2022 – aims to equip individuals as well as small to medium-sized businesses with the knowledge and skills they need to harness opportunities to thrive and grow.
It is one of seven projects that make up #BrilliantBarrow, an initiative that has secured an offer of £25 million from the Government's Towns Fund and aims to transform the town for future generations.
A detailed business case is now being developed to set out how a support programme tailored to the economic landscape of Barrow will help residents and provide a boost to the local economy in future years.
This plan will be submitted to the Government in the autumn as part of a formal process to unlock the grant funding.
Councillor Ann Thomson, the leader of Barrow Borough Council and a member of Barrow's Towns Fund Board, said: "We have incredibly enterprising people and businesses here in Barrow, all with brilliant ideas.
"We want to make sure the right support is in place to help them make the most of the opportunities that exist in this area, to create new businesses and to be able to bring their plans to life.
"Without the right support, we know this may not be possible and these opportunities could be lost.
"A lot of hard work is taking place to develop the business case for this scheme as part of the process towards unlocking the money offered to Barrow by the Government last year."
Barrow was one of 101 towns across the country invited to bid for a share of £3.6 billion from the Towns Fund.
It went on to be one of the first to be allocated a grant of £25 million – the maximum sum available – in October 2020.
This money will only be released by the Government once business cases for each of the projects have been developed, assessed and accepted by officials.
The business support scheme is being developed by Cumbria LEP and would be delivered over a period of five years to help people to start their own business, to become self-employed or to launch not-for-profit organisations.
It would help the area to become economically resilient and to ensure a strong recovery following the Covid-19 pandemic through the growth of community firms.
Engagement work has taken place over the last six months to gather views on the type of support needed in the area.
Steve Cole, Chief Infrastructure Officer at BAE Systems and chair of the Barrow Towns Deal Board, said: "Opportunities exist in the local economy that we want people to be able to take advantage of and use to create employment and growth for themselves and others.
"A business support programme would help equip people with the skills, knowledge and confidence they need to put their ideas into action. The benefits would be wide-ranging for many years to come.
"Work to develop this programme and to demonstrate to Government that it is deliverable within the timescales and agreed allocation of funding is at an advanced stage and will be submitted to Government later this year.
"After this, we hope to receive confirmation that the programme can be launched from 2022 onwards."