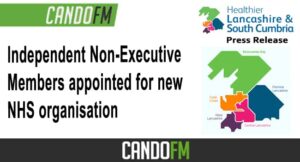 Five new non-executive members have been appointed as designate members of the Lancashire and South Cumbria Integrated Care Board as the Lancashire and South Cumbria Integrated Care System prepares to continue to build partnership working across health and care in our area.
Subject to passage through Parliament, the Health and Care Bill is set to create a new NHS organisation and a statutory local Health and Care Partnership. Their purpose will be to:
Improve outcomes (population health and care)
Tackle inequalities in outcomes and access
Enhance productivity and value for money
Support broader social economic development
The NHS Lancashire and South Cumbria ICB is set to be established in July 2022. Today, 18 February 2022, David Flory CBE, the ICB Chair Designate has named five critical designate appointments to the new board. David said: "We had tremendous interest in the non-executive roles and a very strong field of applicants from diverse backgrounds with valuable experience to consider. I'm very pleased to be able to announce the designate appointment of five excellent individuals and I am looking forward to them all joining us over the coming months as the new organisation is established. Each of our new designate non-executives brings important individual skills and experience to the table. Collectively, their backgrounds cover a range of organisations and sectors."
The appointments are:
Professor Ebrahim Adia
Ebrahim is currently Pro Vice-Chancellor at the University of Central Lancashire and as a member of the UCLAN Senior Executive Team he has responsibility for academic leadership of the Faculties. Ebrahim will be standing down from his role as Chair of Lancashire Teaching Hospital, a post he has held since 2019. He currently sits on both the NHS Confederation Leaders Panel and the North West Black, Asian and Minority Ethnic (BAME) Advisory Committee, as well as taking an active part in a number of system areas, such as the Provider Collaborative Board. Previously, Ebrahim served as Vice-Chair of a Primary Care Trust and as a Non-Executive Director of an NHS Foundation Trust in Greater Manchester.
Sheena Cumiskey
Sheena is a very experienced senior NHS leader, having undertaking Chief Executive roles in both provider and commissioning organisations for the last 25 years. She has undertaken a number of regional and national advisory roles, including Chief Executive Advisor for the creation and production of the NHS Mental Health Long Term Plan. She is recognised as a collaborative and inclusive leader, putting person-centred care and population health at the heart of everything she does. Sheena is retiring as the CEO of Cheshire and Wirral Partnership NHS Foundation Trust in May 2022 and has recently undertaken the role of Interim Chief Officer for the Cheshire and Merseyside ICS. Sheena brings with her a vast experience in mental health, learning disabilities, autism and wider community services.
Jim Birrell –  Audit Committee Chair
Jim has a history of over 40 years public sector employment in both local authority and the NHS. Most recently he was a Non-Executive Director at Southport and Ormskirk NHS Trust between 2017 and 2021, where he chaired their Audit Committee. He has been Chief Executive at a number of organisations including 10 years at Aintree. He is a qualified accountant and has also previously undertaken several Director of Finance roles in the NHS, including the North West Regional Health Authority.
Professor Jane O'Brien
Jane is retiring from Lancaster University at the end of February 2022 and is passionate to continue to contribute to supporting the communities of Lancashire and South Cumbria. She is a professor with a background in people and organisational development. One of her areas of focus during her time at the university has been the development of a centre that supports those in work who have fewer opportunities to access higher education to enter university, thus widening participation. Jane also has extensive experience of partnership working with the NHS including via her role as Director of the Centre for Health Futures.
Roy Fisher –  Remuneration Committee Chair
Roy is currently the Chair of NHS Blackpool CCG Governing Body. Prior to this he was the Chair of Blackpool PCT and a Non-Executive Director on the PCT Cluster Board (NHS Lancashire).
Roy has a wide range of experience of Local Government, including roles as Leader of Blackpool Borough Council, Chairman of Blackpool Challenge Partnership and Chairman of the Local Strategic Partnership. Previously, Roy was a member of the North West Regional Assembly and a member of that Executive Board. Roy has lived in the Blackpool area of Lancashire throughout his life and is able to bring the lived experience of those residents to the Board.
Welcoming the new designate appointments, David added: "The challenges we face across health and care in the years ahead are hugely complex. Recovery from the pandemic is one part of the puzzle, but there are many other longstanding issues that we need to take on in Lancashire and South Cumbria. We have good examples of success and excellence in Lancashire and South Cumbria, but also much more to achieve and I am excited to work with our non-executive members, and our new Chief Executive Designate, Kevin Lavery to make a real difference to health and care in our area."
The non-executive roles will commence in time for the establishment of the ICB.
Background