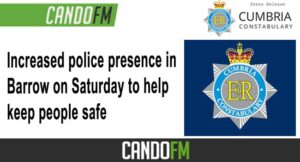 Cumbria Police, Barrow AFC and Carlisle United have joined together in wishing all supporters a safe and enjoyable game ahead of Saturday's fixture between Barrow AFC and Carlisle United.
The fixture will be played at 3pm at Barrow AFC's The Dunes Hotel Stadium, so people living in and around Barrow can expect the roads to be busier than normal.
Cumbria Police will be deploying more officers to the game in order to help ensure the match passes safely for all.
Superintendent Andy Wilkinson of Cumbria Police said:
"It is important that we are up-front with supporters that they are likely to see an increased police presence this Saturday in and around Barrow and particularly in the vicinity of the stadium, for the fixture against Carlisle United.
"The match is an important one to both clubs and both sets of supporters – both in terms of it being a local derby and with respect to what it will mean to both teams' league seasons.
"Our officers will be there to help keep people safe and ensure as little disruption as possible for the wider public, whilst doing everything in their power to ensure supporters can attend and enjoy the match peacefully.
"I'm pleased to have both clubs supporting this message and wish everyone planning to attend the fixture a safe and enjoyable afternoon."
Dedicated Football Officer for Barrow AFC, PC Rickie Wallbank, said:
"We know that all the Barrow AFC supporters who go to the games and sing their hearts out in support of their team behave impeccably and are a credit to their town and their club.
"However, there can be an element with any fixture, but particularly a local derby, who see a match as an opportunity to cause trouble.
"Such people are not welcome.
"We have recently secured a prison sentence and a six-year football banning order for someone who thought it acceptable to act violently outside the ground.
"Whilst I am confident both sets of supporters will attend the match and support their club in a positive manner, we will not hesitate to take action again against anyone who believes they can behave violently at a football match."
Barrow AFC General Manager, Alisha Henry, said: "We all love big games and we're all really looking forward to what should be a cracking atmosphere at The Dunes Hotel Stadium at the weekend.
"We pride ourselves on offering a safe and welcoming environment for all supporters to come and enjoy watching our matches.
"We will continue to work closely with our superb Football Officer, PC Rickie Wallbank, to ensure that anybody who goes against our values in that regard on Saturday or at any other time is dealt with accordingly."
Nigel Clibbens, Chief Executive of Carlisle United, said:
"With the restrictions imposed due to Coronavirus this is the first visit our fans have been able to make to Barrow since they came back into the EFL.
"Our ticket allocation is a sell-out, so supporters without tickets should not travel, or try to enter the stadium on the day.
"We ask our fans to be in full voice as they back Paul Simpson and the team, and we ask them to behave in a way that we can all be proud of."
Follow Barrow AFC Police @barpolbarrowafc and Carlisle United Police @CumPolCUFC on Twitter for regular updates around football and policing in Cumbria.