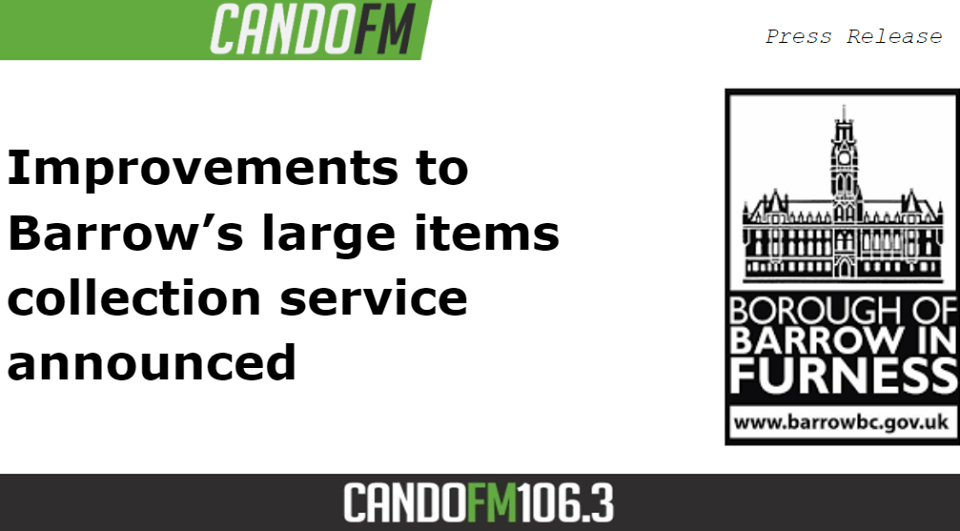 IMPROVEMETS TO BARROW'S LARGE ITEMS COLLECTION SERVICE ANOUNCED
IMPROVEMENTS have been confirmed for Barrow's Bulky Waste Collection Service to make it fairer and easier to navigate for all residents.
Barrow Borough Council offers a collection service for large items through its contractor FCC Environment.
Now, the service is to be simplified to make sure it is clear, easy to book and as inexpensive as possible for householders across the borough.
From April 1, residents will be able to have up to five large items collected from their property for a charge of £15. Each additional item booked for collection during the same visit will be charged at £3 each up to a maximum of ten items.
From 1st April next year, bulky waste collections will be charged at a minimum of £20 for up to 5 items with additional items, up to a maximum of ten, charged at £4.00 each.
This is cheaper than the equivalent service offered by a local authority anywhere else in Cumbria.
The Bulky Waste collection service will be reviewed annually from April 2023 onwards to ensure it continues to offer an efficient service at a fair price to residents.
Councillor Ann Thomson, Barrow Borough Council leader and the authority's lead member for cleaner, greener neighbourhoods, said: "The charge for collecting large items hasn't changed for at least a decade in the borough, during which time the service has required a greater subsidy from the council.
"The changes adopted from April 1 onwards will make things much clearer and, crucially, will be fair for all residents. The service remains excellent value for money and is the cheapest in the county by a long way – something we are rightly proud to be able to offer."
A review was conducted of Barrow Borough Council's Bulky Waste service this year to consider how easy it was to use for residents, the process of administering the service and the overall cost to the council.
The service has previously offered collection of items based on ten minutes of loading time. The review concluded that this could sometimes lead to confusion about how many items could be removed from a property in a single visit.
Cllr Thomson added: "The changes to the bulky waste collection service will make it far more user friendly for residents and more efficient all round.
"We know our residents take a huge sense of pride in the areas in which they live. An improved service will help to keep our communities cleaner and more pleasant for us all to enjoy."
A Bulky Waste collection can be booked by calling Barrow Borough Council's Customer Contact Centre on 01229 876543. Payment will be taken at the time of booking.